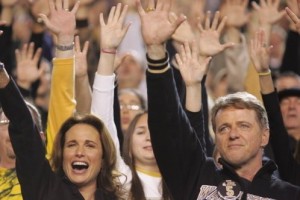 The 5th Quarter is a captivating true story of perseverance and as such it is a story for us all.  It is a riveting story for anyone who has ever suffered through personal tragedy from which one thought there was no way to recover.  It is an emotional story for any parent who has ever lost a child, and every child who has ever lost a sibling. It's inspirational for spouses and families struggling through pain, and demonstrates the need to stay together through that pain—without abandoning one another in personal grief.  It's a story for teens who might be tempted toward reckless driving, or getting in the car with a potentially reckless driver.  The 5th Quarter is about perseverance-the perseverance through tragedy we can accomplish only with God and through prayer and His grace.
This true story of 15-year old Luke Abbate and his family begins when Luke accepts a ride home after sports practice from a teenage boy he doesn't know well.  The teen driver deliberately drives with wild and reckless abandon, despite protests from the other boys in the speeding car to stop.  The teen driver loses control of the car which tumbles down an embankment and Luke Abbate is gravely injured.
At the hospital, after determining blood has not been to Luke's brain for hours, Luke's parents are told Luke will not survive and is "brain-dead."  His parents face the difficult decision of organ donation.  Eventually, his organs are donated to five different people.  His sports jersey number was five and the number five continually recurs throughout the film. 
Luke's older brother Jon played football at Wake Forest University.  He faces his own struggle to work through his grief and shock to return to football and college life following Luke's death.  As he himself strives to recover from this tragedy, he also has great concern for his mother.  At one point he gently tells his mother "I lost Luke.  I don't want to lose my mom too."  Luke's brother Jon must also struggle to persevere to gain strength to return again to life.  This struggle is not an easy one.
This captivating film is authentically done.  The Abbate family has shared the story of their personal tragedy and the difficulties and unbearable pain through which they passed in this tragedy to eventually find themselves on the road to hope.  This is a metaphor for anyone who ever faced personal tragedy and helps us all to see the need to persevere.  As Jon's Wake Forest University team coach said: "Pick each other up and good things will happen."  And that theme plays out through this movie.
The 5th Quarter is about the fragility of life, and reminds us that we have only today to live and to love.  Tomorrow comes with no guarantees.  This is about suffering and loss, yet paradoxically it's also about love and hope.  The love God gives to each one of us in our suffering, and the hope that ultimately comes through suffering.
The one concern in this movie is a neurologist who seemed a little too eager to declare "brain-death," perhaps to harvest organs.  There has been controversy of late over whether "brain-death" is in fact death.  The Catholic Church has always opposed the destruction of human life before being born through abortion and she equally condemns the premature ending of the life of an innocent donor in order to extend the life of another through unpaired vital organ transplantation.  "It is never licit to kill one human being in order to save another."  (Pontifical Academy of Sciences)
This would be an outstanding movie to show to young teen drivers and in high schools as part of driver education. 
This 20th Century Fox film is rated PG and stars Aidan Quinn and Andie MacDowell who play Luke's parents.   Ryan Merriman plays Luke Abbate's brother Jon.   It is produced, written and directed by Rick Bieber.  It is now available on DVD and on Blu-ray.