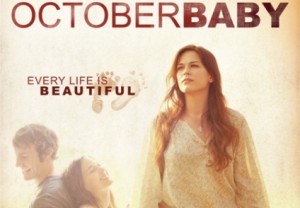 The movie, October Baby became a successful symbol in the prolife movement. Like so many small voices refusing to be defeated against the mammoth abortion industry, neither could October Baby be defeated.
This faith-based film went where Hollywood rarely ventures—into pro-life waters. It traveled another route where small films rarely go—opening #8 at the box office, in spite of premiering in only 390 theaters on March 23. Through public demand, another 201 screens were later added, earning it a spot among CNN's "Most Impressive Box Office Performances" for 2012.
Now, fans can own a copy of the DVD, which is scheduled to hit stores on Sept 11. They can also revisit the story and delve deeper into the characters through the novelization of the movie. On Sept. 1, from B&H Publishing Group, the film will be released as a novel exploring the characters' backgrounds on a deeper level.
October Baby tells the story of Hannah, a college freshman who suffers from health problems. After passing out during a theater performance, Hannah learns that her epilepsy is traced back to her premature birth — the result of a failed abortion attempt.  She also learns at this time that she was adopted.
The news is shattering and drives Hannah to find her birth mother (played by Shari Rigby). The quest ends in rejection and self-loathing for Hannah until she ultimately learns a lesson in forgiveness.   Although it is a heavy issue, the movie is cloaked in a coming of age love story and provides moments of laughter in between drama and tears.
Due to the controversial topic, no studio wanted to touch it. But every time it was screened, audiences were enthusiastic so the movie survived through private fund raising. 
The plot was inspired by the story of speaker, Gianna Jessen, who survived a failed abortion, although the movie is fictional.  It is the first feature film for director brothers Andrew and Jon Erwin, and distributed by Samuel Goldwyn Films and the Sony-owned Provident Films. 
Jon Erwin who was also a co-writer and a producer, stated, "I was just dumbfounded by that true story," he said. "I didn't see it as a political issue. October Baby is an entertaining film, but also one that makes you think."
The script turned out to make actress Shari Rigby, think deeper than she had expected. Shari knew the Erwin brothers from previously working with them on a music video. This was their first feature film and they asked her to consider the small but pivotal role of birth mother to Hannah — played by Rachel Hendrix, who bore a striking resemblance to Shari. The Erwins told Shari that the role was hers if she wanted it.
Although Shari Rigby was a seasoned actress, she was unprepared for the movie script. Shaking as she read the role — birth mother to Hannah — tears poured from Shari's eyes. "I had to put the script down," she said. "I sat on the couch and cried for a long time."  
Although Shari thought she had dealt with her own abortion many years earlier, the script opened up that wound. The pain that had been denied, came pouring out of her heart.  After awhile, she walked into the kitchen where her husband Matt was. "What's wrong!" he asked, when he saw Shari's puffy eyes and still wet face. She showed him the script.  
"Do they know?" he asked, referring to brothers Jon and Andrew Erwin, the directors offering Shari the role.
"No, they don't know," Shari answered. Only her mother and a couple friends knew of her pain — the pain of aborting her baby many years earlier at a time when it seemed the only option.  Shari thought she had moved on but now it was unearthed in a powerful way.
Shari called Jon Erwin and told him her story — much of which paralleled the movie character.  He was amazed.
Shari was in her early twenties working as a paralegal.  She had an associate's degree and planned to get a bachelor and law degree. The pieces of her life were just starting to fit together after a teen marriage ended in abandonment of her and the son borne to that marriage. 
"I was told by many that I was a statistic, that as a single mom, I was destined for a life of struggle," Shari recalled. "There were people who seemed not to want to put in the time to help me because they did not believe I could overcome the odds." But the negative opinions of others made her even more determined. "I went into overdrive to show them I could do this," she said. 
Then came the pregnancy, the result of a poorly chosen relationship. "I don't think he ever wanted to have children," Shari said.  Already having a four-year-old son and struggling to make a better life for the two of them, she felt overwhelmed by the out-of-wedlock pregnancy. "I did not want to look like a failure again," she explained. 
The decision was mutual and made quickly — an abortion. "I shut the door to my heart," Shari said. "I was not walking with the Lord then." There was no thought as to how the decision would affect her in the future, only that it would interfere with her well-planned life. 
"I went in and only remember being handed a pill, going to sleep, waking up, and going home and resting. I had no desire to speak to anyone about it," she said. The only time Shari thought about it again was on the anniversary date every year, but she'd push it out of her mind.
That relationship soon ended and Shari expected to move on. Only her mother and a couple friends knew, but it was not something she or anyone else ever wanted to discuss. It was immediately buried.  She got to the point where she didn't want to date anymore. But then a good friend's younger brother, Matt, whom Shari had known from high school, called her. He was back in town and just wanted to catch up on old times, but romance sparked.  On their second date, they went to church together.
"Within a short time after that, I rededicated my life to Christ," she said.  Matt and Shari became engaged within six months. They've been married now for fifteen years and have a twelve-year old son together.  But Shari did not share her abortion story with Matt until six years into the marriage.
They wanted more children but Shari's endometriosis made that impossible. She secretly carried the guilt of her abortion and wondered if it had caused the disease since statistically there is an increased likelihood of it in women who have had abortions.  When Shari filled out the paperwork for doctor's exams, she always lied about number of pregnancies to keep her abortion secret. 
"When Matt came into my life, I felt ordained to spend the rest of my life with him," she said. "I did not want to risk telling him that part of my past."  But unable to give him any more children, she did not want to carry the burden alone any longer.  Shari said he was sad and wished she had shared it with him sooner, but he understood.
Still, she had not yet grieved.  Shari said, "At the point I got the script, it felt like it was time to deal with this. All the grief I had stuffed and did not even know I had, came pouring out at that moment."  
Through her role in October Baby, Shari found healing. "God walked me through this," she stated. "Acting is very personal for me. One scene in particular felt like it was just between God and me." 
Shari's life has been changed through this movie.  The first time she gave her testimony publically was after the first pilot screening.  "It has been a release," she said. "I don't have to hide and feel ashamed anymore." It is her desire to share with other women so that they don't have to hide and keep secrets. "I want them to know they can focus on being truthful and don't have to be kept in slavery to sin," she said.  "It's very freeing and peaceful."
Click here to get October Baby, A Novel.