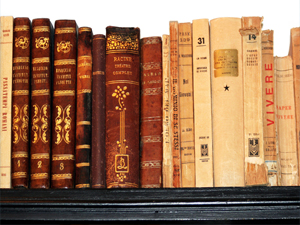 "So basically you are a 'vanity press,'" was the question posed to me that really sounded more like a statement of fact—and an unattractive one at that.
"Well, we offer a variety of publishing services and some of those services are that authors do, indeed, pay to have their books published with us," were the words I said that didn't even begin to cover the true response.
What I've come to see over these past six years working with different authors is that there isn't a vain one among them. In fact, what I've come to know and be blessed by are the men and women who have made the conscious choice to answer the call the Holy Spirit has put upon their hearts to bring a work of fiction or non-fiction to fruition. These are men and women who have taken the "new springtime of evangelization" to heart and have responded. They aren't in positions of power where their names can open doors; rather, they are the simplest and most humble of people who have prayed and discerned to know God's call upon their lives. Each and every one of them is a truly gifted writer and has brought to me work that I am proud to publish; work that I have enjoyed reading and can recommend to others with full confidence. Without exception each is a work that entertains, edifies and enlightens.
Thinking about the inquirer's question-framed-as-a-statement, I realized that not once has it ever been the case of someone whose vanity propels them forward, wanting to see their name in print and their words bound together for profit or for gain.
Not once.
It is always about serving God and uplifting brothers and sisters in Christ in compelling prose.
In fact, I have been so blessed to work with these men and women that I know my life is better having known each of them. I marvel at what they've brought to the world through their work; sharing their tales—whether fiction or non-fiction—has been a labor of love. Paying to have their work published has been a sacrifice they each have been willing to make because they believe it is what God has asked of them. They rightfully believe that this time in our Church isn't about just a few being called but about all of us being called to step up and serve with our God-given gifts and talents. It is a time for each of us to open a door for another, through whatever means or situation in which God has put us.
They understand that now is the time to join together—being bound as believers—and serve one another. These men and women are taking very serious their responsibility as part of the body of Christ.
Their rewards?
Since these men and women have not pursued their publications out of vanity, their success, I am sure they will tell you, is measured on a different scale. They humbly ask themselves such things as:
Was I obedient?
Did I use the gifts God has given me the way He has asked me?
Did I willingly sacrifice as I was asked?
Has one person been affected by my witness, my work?
I am in awe to know these men and women of all ages and backgrounds and experiences. They are what the new springtime of evangelization is all about: taking leaps of faith as they witness and work to share the Good News through their God-given talents.
I hope these men and women encourage you to wonder and then respond to the question, "What is God asking of me right now in this exciting time in our Church?"
Greg Willits—Catholics Next Door—is compiling information for a book on the new evangelization. Take the Greg Willits survey here: