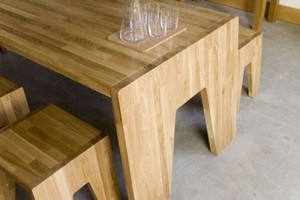 I am no theologian.  I know there are probably theological treatises on what happens in the afterlife when we die. I just know there is an afterlife.  How do I know?  My grandma's oak table.
My grandmother, Iris, was Italian.  Her family immigrated to San Francisco from Genoa.  She and my grandfather, also descended from Italian immigrants, raised their two daughters in the heart of the City near the panhandle of Golden Gate Park.  Iris outlived her husband and her sisters and lived alone in a nice two bedroom flat nestled behind the University of San Francisco's Lone Mountain campus when disaster struck.  She had a massive stroke leaving the left side of her body nearly useless.
We took her in. My parents gave away most of her things and moved her into our tiny 3 bedroom house in the East Bay. My parents both worked for non-profits and we had very little money. My two brothers already shared a room, so for three years in high school my grandma had my room and I slept on the coach.  During a time when most adolescents crave privacy, I fell asleep to the evening news, kept my clothes crammed in a tiny hallway closet, and had my desk in the garage next to piles of laundry. And we only had one bathroom so I got showered and dressed in a parade of family members using the toilet and brushing their teeth.
I wish I could say that my grandmother's time with us was all happiness and giggles.  It was not.  Working full time from home fighting euthanasia and assisted suicide, taking care of her mother, and managing her three busy kids, my mother was beyond stressed out.  That trickled down to us and I just remember having to tread lightly, very lightly.
But we had our great moments too.  Iris, while sometimes grumpy and judgmental, could laugh at herself, which she did often. None of us will forget the time, at a restaurant, she picked up a sprig of parsley, flung it across the table at the waitress, and grumbled, "You call that broccoli?!?"
Iris was also a prayer warrior.  She sat in bed for hours praying.  She had a stack of prayer cards that would rival any Vegas blackjack deck and she used them. Everyday. When she passed away right before my senior year, I knew she was in Paradise with Our Lord.
Fast forward several years and my husband and I are struggling to make our start in San Francisco.  I have a good job at UC San Francisco but the pay is terrible.  We are living in a tiny one bedroom behind a garage not far from where my grandmother lived.  We barely have enough money to eat, so we sell our CDs on the street for $5 a piece on the weekends.  Our oldest child sleeps in my old pac-n-play crib the closet.
We have no money for furniture, so my husband's sister lends us her oak table and chairs while she and her new husband head overseas for a few years.  I remember her admonishment that we take very good care of it.  It looked familiar to me, but I just couldn't place it.
One day my mother came to visit and as she walked in, her faced turned white, her jaw dropped open, and she exclaimed, "Where did you get this table and chairs?"  She rushed up to it and lovingly touched the red stripe painted all the way around the apron. With a tremble in her voice she said, "My father painted this. I remember the day he did it."
It was none other than my grandmother's oak table.  The same one my mother had eaten on for much of her life. The one with squiggly ravioli cutter markings faintly embedded across almost the entire length.  We discovered that my parents had given it to someone who had sold it at a garage sale to my husband's sister before he and I had even met.
Coincidence? Possibly. But I know better, because shortly after that we were evicted. Turns out our cheap one bedroom was cheap because it was an illegal unit.  We had to get out, by order of the city, but we had no where to go.  Decent apartments would take up most or all of my salary. The housing market was so fierce that renters were bidding for places to call home and we couldn't compete.  I feared we would be homeless and I prayed for a miracle.
Then my great aunt called and told me that she saw people moving out of my grandmother's old flat. Because Iris had lived there for so many years, my family knew the landlord well.  I called him, told him I was Iris's granddaughter, and he rented the place to me on the spot for one-third what it was worth. He hadn't checked the going rates in awhile apparently and to his credit he kept his word.
My young family moved into my grandmother's old flat and her table and chairs, along with several other things I had inherited from her, were right back where they started.  I ate with my toddler where I had eaten many times as a toddler, in the same kitchen at the same table.  When we moved out of that flat years later, the landlord rented it for nearly three times what he charged us.
I know with certainty that my experience is not a coincidence. I know that prayer warrior Iris was looking out for me from Heaven because of the sacrifices I made for her.  I supposed I could read a theological treatise on the afterlife to cement my belief in the Paradise God has waiting for us when we return to Him.  But I don't need to because I have my grandmother's oak table and chairs.
This article courtesy of Creative Minority Report.