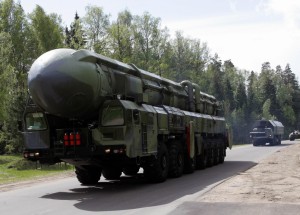 President Obama has caused quite a stir with a private comment made to Russian President Dimitri Medvedev. In discussing missile defense, Obama suggested he would be prepared to yield to Russian demands after the November election. "This is my last election," said Obama, not knowing his words were being picked up by an open microphone. "After my election, I have more flexibility." A pleased Medvedev replied: "I understand. I will transmit this information to Vladimir [Putin]." 
This is a big deal. Obama understands that his longtime stance against U.S. missile defense—while in full accord with Russian leadership—is not popular with Americans. He cannot codify his stance in a formal agreement with Medvedev and Putin until after the November election—assuming he wins. It was a rare moment when Obama was caught on tape expressing his true beliefs.
Those beliefs are no surprise. Barack Obama has never supported missile defense. In 2008, he openly campaigned to "cut investments." It is most unfortunate that Americans would elect to the White House a man who rejects missile defense. Time and time again, in poll after poll, the vast majority of Americans have stated that if a nuclear missile were fired at the United States, we should have a missile-defense system (we do not) that would shoot it down. They believe this despite voting for Democratic presidential nominees who blocked missile defense: Al Gore, John Kerry, and Obama.
That said, I was taken aback by the historical irony of Obama's comment to Medvedev. It came 29 years almost to the day that Ronald Reagan, on March 23, 1983, announced his Strategic Defense Initiative. More fitting, Obama's remarks came precisely during the period in 1983 when liberal Democrats lined up to ridicule Reagan's SDI.
Immediately after Reagan's announcement, Senator Ted Kennedy dashed to the Senate floor to mock the SDI speech as "misleading Red-scare tactics and reckless Star Wars schemes." The term quickly found itself typed into New York Times headlines that day. Kennedy inspired other Democrats to follow suit. Senator Daniel Inouye (D-Hawaii) dismissed Reagan's talk of "Buck Rogers" weapons. Congresswoman Barbara Boxer (D-CA), today a U.S. senator from California, chuckled at the president's "astrological dream." Boxer ridiculed Reagan's vision of flying parking "'garages' in orbit." The leftist scientist Carl Sagan, the face of Cosmos, a popular PBS series, joined the fun, howling at Reagan's silly machine: "In the foreground comes a very attractive laser battle station," guffawed Sagan, "which then makes a noise like bzzzt … bzzzt … bzzzt."
Needless to say, the Kremlin absolutely loved this (click here and here). It was a badly needed gift, courtesy of America's Democrats. Reagan's announcement had terrified the Russians. They needed a way to turn the tables. They adored the lines about "Star Wars" and "Buck Rogers." They instantly co-opted the language and created a full propaganda campaign built precisely on these terms of derision by Democrats.
Like with Barack Obama's statement against missile defense today, the Russians were elated.
That was March 1983. And yet, President Obama's comments bring to mind another troubling historical analogy. They follow Obama's September 17, 2009 announcement cancelling plans for joint missile defense between the United States, Poland, and the Czech Republic—former "Captive Nations" of the Soviet Bloc that have become superb U.S. allies, and who still fear the Russians. Obama's action was a shocking betrayal of these two allies, and it was done to mollify Vladimir Putin and the Russians.
Poles and Czechs were stunned. But Poles especially were aghast at the timing of Obama's decision: It came exactly 70 years to the day—September 17, 1939—that Stalin's Red Army, in compliance with the Hitler-Stalin Pact, invaded Poland. The Soviets thereby joined the Nazis in assaulting Poland and starting World War II. Among other calamities for Poland, such as the Katyn Woods massacre, this joint attack made possible the Warsaw Ghetto and Auschwitz. Poland somehow survived, but its Jews did not.
Back then, too, in September 1939, Poland was virtually defenseless, and Uncle Sam didn't help.
This time, in September 2009, Poles and Czechs were asking for something much simpler: a U.S. commitment to the joint missile-defense system that America had promised under its previous president. No American troops were requested, no American tanks, planes, rifles, bullets, grenades. Only a defense system.
President Obama reversed that promise on September 17, 2009.
Many Poles saw the move as another painful example of Uncle Sam siding with Russia at Poland's expense and to Poland's detriment, a tragic history that goes back to Yalta in February 1945.
President Obama's moves on missile defense contain some chilling historical parallels. This is not good.
Will any of this matter to Obama's supporters? No, it won't.