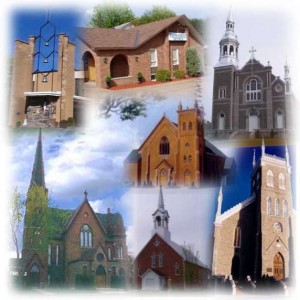 In case you didn't notice…. With George W. Bush out of office and a Democrat in the White House, the secular media stopped its handwringing over the president mentioning God. With Rick Santorum's surge, the hysteria has started again. Every religious utterance by Santorum will be a cause for apoplexy by the liberal press.
It will be just fine—perfect, actually—for President Obama to effectively claim that Jesus favors a 39.6 percent marginal income tax rate on wealthy Americans (as opposed to 36 percent), or repeatedly sermonize about being his "brother's keeper." It won't be preachy for Nancy Pelosi to urge no domestic drilling as "an act of worship." But if Rick Santorum's wife, Karen, dares to consider her husband's presidential pursuit as "God's will?"
Well, that's plainly unacceptable.
Speaking of God's will, I could offer countless examples of Democrats invoking precisely that. I've done articles, chapters, books on the subject. Pick your liberal/progressive: Woodrow Wilson, FDR, Jimmy Carter, Bill Clinton, Hillary Clinton, Al Gore. Democrats have never been shy about claiming God's work as their own. The difference is that the secular press calls attention to this alleged malfeasance only when committed by conservatives.
To briefly illustrate the case, here are some examples from Bill Clinton:
"By the grace of God and your help, last year I was elected president," said Bill Clinton, speaking at the Church of God in Christ in Memphis, November 1993. Or take this one: "Our ministry is to do the work of God here on Earth," said Clinton to a church in Temple Hills, Maryland, August 1994.
Mind you, Clinton said this not merely while speaking in churches but actively campaigning in churches—another tactic the press only permits of Democrats.
In fact, Bill Clinton's wife, as the senatorial candidate for New York in 2000, likewise campaigned in churches, as did Clinton's vice president, Al Gore, the Democratic presidential nominee. On election eve in November 2000, Mrs. Clinton campaigned in seven churches in seven hours.
Bill Clinton, sitting president, happily helped Hillary and Al Gore and other Democrats that year, barnstorming churches like a country preacher. On October 31, 2000, Clinton hit the Kelly Temple Church of God in Christ in Harlem. Joined by a contingent of fellow Democrat politicians, Clinton reminded congregants why they were there:
Now, we all know why we're here…. But I want to talk to you about the people that aren't in this church tonight … but they could vote. And they need to vote, and they need to know why they're voting. And that's really why you're here, because of all the people who aren't here. Isn't that right? …

So what you have to think about tonight is, what is it you intend to do between now and Tuesday, and on Tuesday, to get as many people there as possible and to make sure when they get to the polls, they know why they're there, what the stakes are, and what the consequences are…. If you've got any friends across the river in New Jersey or anyplace else, I want you to reach them between now and Tuesday, because this is a razor-thin election.
Speaking to the Alfred Baptist Church in Alexandria, Virginia, Bill Clinton employed Scripture as justification to head to the polls: "The Scripture says, 'While we have time, let us do good unto all men.' And a week from Tuesday, it will be time for us to vote."
Clinton was joined at the Alexandria church by a prominent collection of Democrats. That talk came on October 29, 2000, at 12:40 p.m. Three hours earlier, at 9:40 a.m., he squeezed in another campaign talk to the congregation of the Shiloh Baptist Church in Washington, D.C. There, Clinton pitched various federal legislation and blasted Republican-proposed tax cuts before urging worshipers to go vote.
When Scripture was mentioned at these churches, it was for political purposes. It was a total infusion of church and state. And why not? shrugged Clinton. As he told a congregation in Newark, he and fellow Democrats were doing the Lord's work: "God's work must be our own."
Overall, Bill Clinton spoke in churches 21 times as president, over half of which came in election years. For the record, his wife did 27 churches in just two months in 2000.
The hypocrisy of the press on this issue is staggering. All a Republican needs to do is mention God and secular liberals go wild. Meanwhile, liberal Democrats can say anything they want about God—even while blatantly campaigning in churches—and their media allies will not utter a peep of protest.
"God's will?" To the press, that's the domain of Democrats alone.