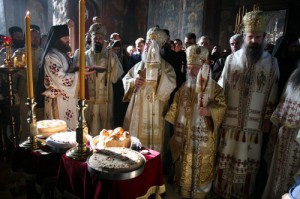 Metropolitan Hilarion, responsible for the external relations of the Russian Orthodox Church, pointed out the joint tasks of members of the Orthodox and Catholic Churches in a world characterized by materialism and consumerism at a meeting on Pentecost with the Executive President of the Pontifical Foundation Aid to the Church in Need (ACN).
"We must not wait for unity of the churches to take action," stated Metropolitan Hilarion Alfeyev of Volokolamsk, who is Chairman of the Department of External Church Relations of the Patriarchate of Moscow. "The Eucharistic union will not come about within a few years."
Today, however, there is already a "strategic alliance in fields of common interest," said Hilarion at the meeting in Moscow.
According to ACN's Executive President, Johannes von Heereman, it is possible "to act jointly" in these fields.
For Hilarion and Heereman these fields include assistance for the persecuted Christians in Arab and Islamic countries, where "the situation for Christians has deteriorated dramatically," as well as the common Christian values regarding protection of life and with respect to marriage and family, which suffer to an exceptional extent from secularization, and finally theological training.
They also saw specific fields in the exchange between students and intensification of spirituality.
Both agreed that it was necessary to "pursue new approaches and cast off the burdens of the past."
In the view of Hilarion, who is considered number two in the hierarchy of the Russian Orthodox Church, meetings and joint activities are needed to this end.
In this context he referred to his encounter with Curial Cardinal Kurt Koch, the Prefect of the Pontifical Council for Promoting Christian Unity, at the conference held by Aid to the Church in Need in Würzburg in March 2011.
He stated that there was interest in projects "that bring us closer together."
The Russian Orthodox has been working together with Aid to the Church in Need for a long time now, he added, and people are grateful for the assistance received in recent decades.
In view of the challenges facing the churches, as Hilarion and Heereman emphasized, it is now important to "to look into the future together."