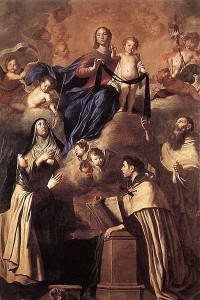 Not only among members of the Carmelite Order but also among increasing numbers of the laity is today's Feast held in great honor.  According to old records, it commemorates an incident in the life of St. Simon Stock.
In 1251 at Aylesford in England, the holy friar was privileged to witness an apparition of Our Lady.  In it the Mother of God promised special graces for those who would wear the seapular of the Carmelite habit in her honor.  Encouraged by this powerful promise, many then and now, have affiliated themselves to the Carmelite Order, wearing the brown scapular as a sign of their devotion to Mary. In addition to wearing the scapular, they observe extra days of abstinence each week, offering particular prayers in Mary's honor and keeping the chastity proper to their state in life.  The great favor expected has caused the promise to be known as the Sabbatine Privilege.
While the feast celebrated today was extended to the whole Church in 1726, devotion to Our Lady of Mt. Carmel has an older tradition.  On Palestine's Mt. Carmel dwelt the prophet Elias; at this spot he had the vision of a white cloud alone in the sky, ascending heavenwards.  This sight, taken as a prototype of Our Lady, influenced others at a later date to devotion to Mary on this hallowed spot.
The present Carmelite Monastery at Mt. Carmel, Israel (pictured) was erected in 1836.  And in 1951 the Carmelites repossessed the shrine at Aylesford UK, emphasizing in this way the increasing attraction of the devotion to Our Lady of Mt. Carmel.
Reflection:  Evey feast of Mary is a day of grace.  Today's liturgy bids us renew our efforts to be "counted worthy to arrive under the shield of her protection."  It reminds us that those who seek Mary's aid in their dying hours must live in accordance with their Christian faith.  Like Mary they must "hear the word of God and keep it."