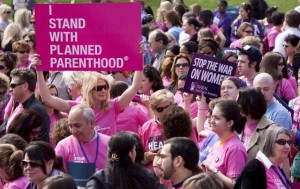 Incredible as it seems, there is more gore spewing from Planned Parenthood's inner sanctum each passing day. 
Let's begin in Kansas where documentation is destroyed and late-term abortionists are held in the highest esteem. It seems that all of the records required by law to ensure that Planned Parenthood was complying with the law, regarding the case former Kansas attorney general Phill Kline had brought against Planned Parenthood and its cohorts, have been shredded! Yes, you got it. They are no more.
American Life League's Stop Planned Parenthood International reports, "The shredded records contained evidence that would help prove that Planned Parenthood did not consistently report child rape. If those charges are proven, the abortion giant stands to lose $350 million plus annually in government funding." What's even more interesting is that, from the start, then Kansas governor Kathleen Sebelius fought Kline, defending Planned Parenthood's right to protect its patients' privacy! 
Michelle Malkin reports, "Sebelius fought transparency motions in the proceedings tooth and nail for years. Prosecutors allege a long-running heinous cover-up to manufacture false records of patients who had late-term abortions—and to whitewash Planned Parenthood's systemic failures to report child rape."
Clearly the Obama administration will stoop to any level to preserve its version of integrity which is exemplified in Planned Parenthood's ongoing tactics, even though lives are lost and women are maimed. This must be why Dana Singiser, Special Assistant to the President for Legislative Affairs, will be joining Planned Parenthood Federation of America (PPFA) as its Vice President for Public Policy and Government Relations. Singiser will lead a department that is tasked with advancing Planned Parenthood's mission with state and national policymakers.
And then there's the case of ex-congressman Steve Driehaus, a "sore loser" who sued the pro-life political action committee, Susan B. Anthony List, "claiming that the group's accusations that he voted to fund abortions when he voted for Obamacare resulted in his 'loss of livelihood.'" Keep in mind that U.S. district court judge Timothy S. Black, who ruled that the Driehaus case could proceed, happens to be an Obama appointee who is the former president and director of the Planned Parenthood Association of Cincinnati! 
And when it comes to the human rights of the preborn child, Planned Parenthood exhibits its most astounding case of freaky prattle, hyperventilating that if preborn individuals are recognized as members of the human race by state constitutional amendments or laws, the result will be that their mothers will experience "terrible suffering" and may even die because life-saving treatment would be denied them. Only Planned Parenthood could devise such totally fabricated scare tactics designed to protect its lucrative abortion trade and continue to keep its customers as ignorant as possible. If fear were a marketable product, Planned Parenthood would be the wealthiest non-profit in the entire world.
What is so ironic about these Planned Parenthood tales of death and destruction is that you and I are paying for them with our tax dollars. It has been said that the "devil is in the details," and we might add that the demons are in Planned Parenthood's coffers.
All these things remind us that we must demand an end to Planned Parenthood's easy money. To get involved in defunding Planned Parenthood, go to http://stopplannedparenthood.com/. 
Remember: Dietrich Bonhoeffer, the German Lutheran pastor, once said: "Silence in the face of evil is itself evil: God will not hold us guiltless. Not to speak is to speak. Not to act is to act."