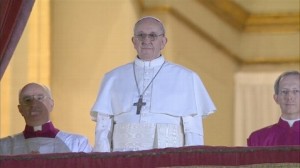 Like the rest of the world, I sat stunned by the revelation that our new Holy Father was almost completely unknown. We didn't recognize the name; we scrambled for reference points; we watched transfixed as an older man was brought out on the loggia to meet his spiritual children.
He also looked somewhat stunned, standing there absolutely still for the better part of a minute. (Inwardly, I thought: What have we done to this poor fellow!) Then with the smallest twinkle in his eye, he greeted everyone with a priceless, "Buona sera." Charming!
What unfolded in those few short minutes of introduction, no doubt through the guidance of the Holy Spirit, was a profound catechesis on faith, beginning with reverent wonder—one might even use the traditional words: fear and awe. What hath God wrought through this brief Conclave? What is it that the children of God need most in their turbulent and noisy world? What will cut through the blazing technological arcs that distract and captivate the hearts that were made for God alone?
Reverent wonder swept through everyone in St. Peter's Square—and no doubt all but the most jaded of onlookers throughout the world. The pundits went speechless, the factions for other candidates sat slack-jawed, and the breath of the Spirit was palpable. The papabile came out of the Conclave—still robed in their bold red cassocks—and one unknown man stood quietly in white, showing that God is still the Author of mysterious portents.
That leads to the next signal that gently cut short the buoyant response to his greeting. The new Pope brought silence to the Square. How much ink had been spilled on the speculation, how many words devoted to opinions, how many millions of tweets and texts! Despite all the verbosity that led to that moment, Francis commanded silence by a radiating meekness.
Having captivated the crowd with his calm demeanor, he led them like lambs to prayer. He prayed for his predecessor, and then explained to the faithful that first he wanted their intercession for God's blessing in the work entrusted to him. How earnest were the faces, how sincere the prayers, how astonished the thousands of souls present to whom he turned for support. He knows the value of prayer—and what happens when two or three (hundred thousand!) are gathered in His name. And they prayed as one for the unity and stability of the Church, and the strength and wisdom of this man called to lead it.
So, in a few short minutes, we met our new shepherd and were taught more than we thought possible in such a brief encounter. Technically, his first "lesson" was the choice of name, which has led to enormous speculation and comment. But after that, the man on the loggia imparted to his beloved flock exactly the right priorities: wonder, silence, and prayer.
Let the heavens be glad and the earth rejoice, for the rest is just words.