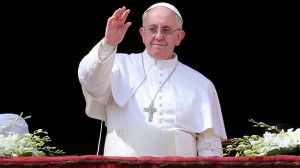 "That's not what he really meant to say…"
These are increasingly common words spoken on behalf of Pope Francis.
Increasingly, Catholic bloggers are having to compile montages of quotes to show the strain of orthodox continuity in the Pope's interviews. For many traditionalists, it is the frightful spectre of a Jesuit pope ascending the throne of Peter just in time to undo all of the damage control and growth wrought by John Paul and Benedict in the wake of Vatican II. Now, many fear, we stand to lose all that has been set aright. In this, many speak openly and disparigingly of the new pope, contempt dripping in a manner not unlike the leftists in their assessment of John Paul and Benedict.
Right or left, orthodox or progressive, it is all a manifestation of the same underlying spiritual illness…
Pride.
Are we only to submit to papal authority when the mood, or mode suits us? Do we place stylistic predilection over our duty to respect and obedience to legitimate episcopal and papal authority? Is our faith on the orthodox side of the aisle so fragile that we get a case of the vapors at the least departure from our preferred norm? To be certain, this pope is dangerous. His style is that of…
Jesus.
He reaches out to sinners and dines with them.
He gives interviews to atheists.
He eschews the pomp and splendor that is his due for something very, very different.
He accords women unusual influence for his day.
He has reached beyond the broad parameters carved out by John Paul II, and has been warning us that great change is on the way.
In all of this, we must never, ever, EVER lose sight of this most central reality:
He. Is. Peter.
Unless the day comes where he breaks with defined teaching, he will have my respect and obedience, and I will keep any transient dyspeptic moments to myself.
Yes, there is great potential for misunderstanding when he speaks off the cuff, but ultimately, little room for harm. Those whose faith is well-informed and rock-solid cannot be rattled.
Those who ridiculed John Paul and Benedict may hear him when the truth is spoken in a different way. At worst, they will simply look for any justification to persist in their unbelief.
Those who are weak will need us to be Francis' defenders, to explicate his teaching and show its continuity with all that has gone before. It is the Parable of the Sower.
Change is coming with this pope, much needed change. He comes from those people below the equator who have been largely invisible to us in the faithless north. He speaks for them, and from their experience of the Church. He was elected to effect the changes that Benedict saw as necessary, but was too infirm to effect.
The coin of the realm in all of this will be faith and obedience, especially from those of us who revere John Paul and Benedict, who count ourselves the orthodox backbone of the Church. This is no time for that backbone to become arthritic.
Francis is going to need every one of us.
I'm with Peter.