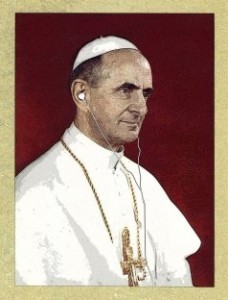 In an attempt to stay plugged in to American culture while I live overseas for 16 months, I have regularly acquainted myself with the Billboard Top 40.
Not surprisingly, in reflecting on the love proposed by Humanae Vitae, the concept of faithfulness is glaringly absent from mainstream media and culture.  Not that freedom, totality, and fruitfulness are overwhelmingly present either, but out of the top 40 singles in the U.S. right now, there are maybe 5 songs that even mention any intention of monogamy.
Why the lack of commitment?  Probably the same reason my guitar skills plateaued 15 years ago: commitment and discipline are harder than immediate gratification.  Why practice scales when all I need are "three chords and the truth", right? (Or so said country singer and song writer Harlan Howard.)
Faithfulness, a gift of self to one person forever, without rescinding and re-gifting, is unpopular because it generally has very little immediate payoff and it requires basically everything from you.  Forever.  And let's face it, when immersed in a self-perpetuating market of immediately breakable and obsolete products, it can be difficult to see why we should view relationships any differently than we do our culture of disposable products.
After all, if Beyonce is right, and people are replaceable "in a minute" ("Irreplaceable" sat at #1 for ten weeks in its day), then where does JPII's idea that we are all "unique and unrepeatable" fit in?  The foot in the door is the fact that, beneath all our scrambling to "find new ways to fall apart" (Fun.'s "We Are Young", as of this writing #15) and become "wide awake"(Katy Perry at #2) to the apparent futility of relationships, we're actually just putting bandages on the wounds that are a direct result from trying to live contrary to our created nature. Life becomes an endless chug-fest of Pepto-Bismol because of a 3-meal-a-day McDonald's habit or daily blister care because you bought too-small shoes on the clearance rack.
If JPII and PVI are right, then each of us bears an intrinsic desire for faithfulness and we should be able to infuse healing and understanding into our culture by speaking to the illness, not merely the symptoms.  What would that speech sound like?  In some cursory ways, it would look like Jason Mraz's current hit "I won't give up" (chillin' at #23), with statements like "I'm giving you all my love" and "I don't wanna be someone who walks away so easily" and, yes, "I won't give up".  On a slightly deeper level, this would sound like a resounding "YES"–fiat–in answer to the cries for fidelity found in Kelly Clarkson's "Dark Side"(#40 in the UK):
"Will you stay/ Even if it hurts/ Even if I try to push you out/ Will you return?/ And remind me who I really am/ Please remind me who I really am."
Later in the song, she pleads:
"Don't run away/ Don't run away/ Just tell me that you will stay/ Promise me you will stay"
Picture this: you, Jesus' wounded and terrified Bride, kneeling next to Him in the Garden of Gethsemane, echoing the same words, pleading with Him not to run away; and, because real love is always faithful, He stays.  He takes the whips, thorns, splinters, nails, and tomb out of love.  It is in Christ's choice to be faithful and to never leave or forsake, that we may see the deepest root of the illness we're facing: we've forgotten–or haven't been told–whose beloved we really, truly are.
The fraudulent love that media and mediocrity seeks may tell us who we should be (even offering us helpful "Steps to Keep Your Partner Happy and Satisfied!" suggestions) but these are always merely conjecture and bravado.  The culture of lust says you're only worthwhile as long as your desirable attributes last, which JPII tells us, "casts a permanent shadow over the relationship"; those lies shake people to their core with doubts as to their own dignity and worth.
So, instead of enjoying "She Likes Me For Me"(Blessed Union of Soul's #8 hit in 1999), we now get "Somebody That I Used to Know"(Gotye at #6).  All the while our Groom quietly and resolutely reveals to us who we are through His unwavering faithfulness.  His true love says to each of us, "I created no one else like you and you are forever worthy of my life and death."
It is love of this high nature that we are called to; we have in our hands as Christians the responsibility to inform each soul that they are "someone willed by the Creator 'for his own sake'" and that they are "unique and unrepeatable, someone chosen by eternal Love" (Theology of the Body lectures, 15:4).
In marriage, we have the opportunity to freely and totally give ourselves to a singular someone, who cannot be rivaled, thereby proclaiming the faithfulness of God to the world .  This fidelity can be glimpsed in Journey's "Faithfully", Mraz's "I Won't Give Up", and yes, even in Bieber's new "As Long As You Love Me" (#30, UK).  This, however, does not fully seize upon the highest, deepest, and truest degree of love in the Eucharist and our Lord's words: given up for you, shed for you.
For you.
It is in His eternal sacrifice, ever-available to us, that we see our real worth, for He deems us worthy of His flesh and blood at each Mass, regardless of our estimation of ourselves.
Brothers and sisters, may we as bearers of the Good News, fix our eyes on Him and begin to harmonize His truest of love songs in our every breath and by our every action.  He taught us the melody very clearly when He said, "As I have loved you, so you also should love one another" (John 13:34).
Get plenty of rest, treat your vocal cords well, and work on breathing from the diaphragm, because we have quite the concert to give.  As one great conductor wrote in his most famous encyclical Humanae Vitae, "…fidelity…can sometimes be difficult, but is always possible, always noble… [and]is a source of profound and lasting happiness."
Take a deep breath.  The curtain is rising.