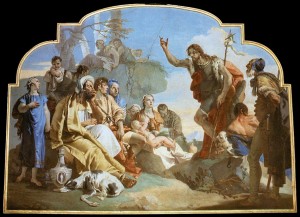 When was the last time any of us stood on a street corner or walked into a room filled with people and passionately proclaimed: "Repent, for the kingdom of God is at hand!" (Matthew 3:2)?  The truth is that most of us never have or ever will.  But these words, preached by St. John the Baptist to the people of the Holy Land in the early first century is, in many ways, exactly what we are supposed to be doing every day of our lives.  Through the faith we have most generously received from the Holy Spirit and the prayers which we offer in worship and obedience to God, we are called to proclaim the existence of the Most Holy Trinity, the coming of Jesus our Messiah, and the gift of union with God in the sacraments of the Church.
Instead, it seems that we Christians in the West spend a lot of time trying to make people comfortable in their own lives, often avoiding discussions of our Christian faith in general, and the need for prayer, repentance, and sacramental participation specifically.  At best we avoid this kind of approach because we honestly think gentility will help others feel better about themselves and Christianity.  At worst we avoid this kind of language because we are embarrassed of what people might think or afraid of the consequences of preaching the faith.  Either way, we're simply not living up to the call of our God who gave Himself up for us.
Thus, we have put ourselves in the position of becoming dangerously similar to the Pharisees and Sadducees.  Here is what St. John the Baptist said to them (emphasis mine):
Brood of vipers!  Who warned you to flee from the wrath to come?  Therefore bear fruits worthy of repentance and do not think to say to yourselves, 'we have Abraham as our father'.  For I say to you that God is able to raise up children to Abraham from these stones.  And even now the ax is laid to the root of the trees,  Therefore every tree which does not bear good fruit is cut down and thrown into the fire,  I indeed baptize you with water unto repentance, but He who is coming after me is mightier than I, whose sandals I am not worthy to carry.  He will baptize you with the Holy Spirit and fire.  His winnowing fan is in His hand, and He will thoroughly clean out His threshing floor, and gather His wheat into the barn; but He will burn up the chaff with unquenchable fire.  (Matthew 3:7-12)
John doesn't mince words here: we must bear fruit in the faith or we risk losing our eternal life with God.  Simply put, once we recognize that we have faith, we must learn about that faith; then we must immerse our lives in prayer, preach openly about what we believe, and be willing to take whatever comes from the decision to announce that faith.
St. John the Baptist did all of these things and that is why we take time to remember the beheading of this holy prophet and forerunner to Christ on August 29.  He gave everything of himself – including his own life – to help others to know, love, and serve Christ our God.  That is why I encourage each of you to know this particular John better, pray for his intercession, and begin to live lives in which prayer and preaching supplant the fear of any pain to come.
So, during this Year of Faith, ask yourself this: do I understand the importance of acting on the gift of faith given by the Holy Spirit?  Do I realize that my faith must bear fruit or I may lose eternity with God?  Do I perceive that if I live for Christ alone I do not have to be afraid?
Let us pray for one another that we may live our lives in this way.