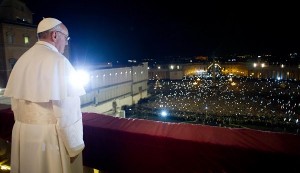 Yesterday a new pontificate officially began.
The essential message in the homily given by Pope Francis to open his pontificate draws on the work and image of St. Joseph, spouse of Mary, head of the Holy Family. And that message is to "protect."
This message is important at a time when the figure of the person who "protects," be he or she a father, a mother, a priest, a scholar, a leader, is under attack — in a time when the "protection" is entrusted to others, or to none, when the "protectors" are anonymous, or hidden, or when they simply don't exist.
To "protect" means to make sure what one protects is not harmed, not hurt. And so this emphasis on "protecting" seems to recall a passage in the Book of Revelation which focuses on "not hurting," that is, protecting.
In Chapter 7 of Revelation, an angel ascends from the east, bearing "the seal of the living God." This angel cries out in a "loud voice" to the other "angels," who had been "hurting" the earth.
Now, we know that St. Bonaventure considered St. Francis, who had received the signs of Christ's wounds on his body, the stigmata, in 1224 A.D., this angel, the "angel having the seal of the living God." Bonaventure writes about Francis in this way in his biography of Francis, the Legenda Major.
We know that this new Pope has chosen the name Francis in honor of St. Francis.
Here is the relevant passage from the Book of Revelation:
And I saw another angel ascending from the east, having the seal of the living God: and he cried with a loud voice to the four angels, to whom it was given to hurt the earth and the sea, saying, Hurt not the earth, neither the sea, nor the trees, till we have sealed the servants of our God in their foreheads. (Revalation 7:2-3)
So, this pontificate begins under the sign of St. Joseph, the father, the protector and under the sign of St. Francis, the protector of the earth, and all who are on the earth, the man of peace.
I note also that yesterday was the saint's day (celebrated in Italy almost like a birthday) of Emeritus Pope Benedict XVI. A blessed "nameday" to the Emeritus Pope, Benedict XVI.
========================
"To protect Jesus with Mary, to protect the whole of creation, to protect each person, especially the poorest, to protect ourselves" –Pope Francis, Homily, March 19, 2013, Mass in St. Peter's Square to inaugurate his pontificate.
Francis's schedule for the next few days
On Wednesday, 20 March, he will hold an audience with fraternal delegates representing the heads of the various Eastern rite Churches so there will not be a General Audience.
On Saturday, 23 March, he will go to Castel Gandolfo to meet with Emeritus Pope Benedict XVI and have lunch with him.