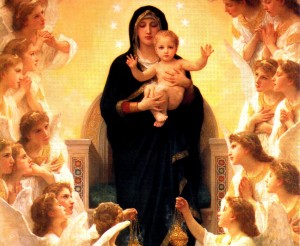 Recently while perusing Marian books at a Catholic gift store, I discovered many of the topics pertained to Marian apparitions, some approved and others not.
Over dinner, I mentioned that I enjoyed the study of Mary, known as Mariology, and the other person shared with me that he had visited Lourdes.
After giving a talk on the rosary, someone from the congregation asked, "What do you think about Medjugorje?"
Lastly, on December 8th, a high school world religions teacher, who had a Masters in Theology from a Catholic college, shared with his class that the Church was celebrating the feast of the Immaculate Conception.  He went on to say that its celebration on December 8th was peculiar to him, because after all, how could Jesus be born only a few weeks later on December 25th.  His conclusion: it was a miraculous birth.
These are all real-life situations that reveal a common trend, that is, the dominance of apparitions in contemporary Mariological discussion among the laity. [1] Furthermore, I believe this trend reflects the reason why we need to re-discover Mariology. People are fascinated with Marian apparitions but it is at the expense of Marian catechesis and devotion. There is nothing wrong with apparitions. In fact, I am a great devotee of the Champion, Wisconsin apparition, and have researched and written on it extensively. I also love the story of St. Bernadette and Our Lady of Lourdes. I recognize that Marian apparitions, approved or not, have played an important role in forming Catholics in their Marian devotion, and for some, facilitated their conversion. [ii]Fr. Lawrence Porter in A Guide to the Church affirmed the role of apparitions, writing: "There can be little doubt much modern day Catholic devotion to the Blessed Virgin Mary finds its impetus in visionary appearances of the Virgin at Lourdes, Fatima, Guadalupe, et cetera." [iii]
By no means do I wish to discount apparitions or diminish their value. Indeed, the messages given to the privileged few who have seen and spoken with Mary, are meant to inspire us and call us to prayer and repentance. We must, however, not limit ourselves to just apparitions. The curiosity sparked by apparitions must be a stepping stone to learning more about Mary and loving her all the more. As seen by the shelf at a Catholic gift store or the lady who told me she had visited Lourdes, the knowledge many people have of Mary is limited to this subject. Apparitions must lead us to a greater love of Jesus, Mary, and the Church. We must discover Mary not only in the apparitions but also through the many sources of Mariology. When a person's knowledge of Mary's Immaculate Conception is so deficient that he or she believes it to be the conception of Jesus, we know there is a great need for Marian catechesis.
The late Fr. William Cole, SM, former president of the Mariological Society of America, lamented in 1989 that "as far as things Marian are concerned …. there are many who associate Mary and Marian devotion only with these various appearances." [iv]One can sense a bit of disappointment in Fr. Cole's tone. He wished that there was a greater love for things Marian; that in the mainstream it was not limited to just apparitions. From this, we can see the value of Mary by going beyond apparitions and re-discovering Mary in the many rich sources we have as a Church. [v]Fr. Porter wittily noted, "[L]ong before these modern-day appearances of the Virgin Mary, she also appeared significantly in the Bible." [vi]Fr. Porter is right; one of the first places we should and must turn to in studying Mary is Sacred Scripture, which is a part of the Church's public revelation.
In reading the Old Testament there are many prefigurements and prophesies pertaining to Mary, beginning with Eve, Hannah (the mother of Samuel), and the writings of David, Isaiah, Micah, and Ezekiel, among others. Furthermore, Sacred Scripture proposes to us certain Mariological questions especially within the New Testament. Who were the brothers and sisters of the Lord mentioned in the scriptures (e.g. Mark 3:31-35, 6:1-6)? What does this mean for Mary's perpetual virginity? Also from Sacred Scripture, other questions pertaining to Mary's relationship with Christ and her role in the economy of salvation emerge.
Mariology, then, should not simply be designated as the study of Marian apparitions, but as the study of Mary's relationship to Christology, soteriology, ecclesiology, and anthropology (among other disciplines). Mariology pertains to doctrine and devotion. The Second Vatican Council made Mariology's relationship to ecclesiology explicitly clear in Chapter VIII of Lumen Gentium, while also mentioning its relationship to other theological disciplines. Furthermore, Paul VI's apostolic exhortation, Marialis Cultus, provided a good foundation for Mariological study and the right ordering of Marian devotion.
To a certain degree there is a Marian crisis in the Church, but slowly and surely the tide is changing. The crisis is not as catastrophic as the decline in Marian devotion, labeled as a so-called Marian silence in the years following the council; nevertheless, it is true some people find their only spirituality through Our Lady's latest messages or appearances.  There is a trend of Marian renewal that is occurring throughout the country and world. There is an increased devotion to the rosary and an added interest in other Marian devotions (e.g. novenas).
Today, we need a continued recovery of Mariology within the Church which was especially evident in the writings and speeches of Blessed John Paul II. The future of Mariology hinges on the ability of future priests to preach and catechize on topics related to Mary. It is necessary for men in seminary formation to develop a devotion to Mary and an understanding of Mary's role within theology, especially dogmatically and doctrinally. [vii]
The future of Mariology can also be promoted by the lay faithful who are developing a greater devotion to Mary through many lay movements (e.g. Shoenstatt, Militia Immaculata, Legion of Mary, etc.). In the United States, many parishes have also begun to use Fr. Michael Gaitely's book Thirty-Three Days to Morning Glory, which makes accessible St. Louis de Montfort's practice of Total Consecration to Mary. With these movements, the Marian sense of the faithful is moving in the right direction, to a recovery of Marian belief and practice beyond apparitions.
Indeed, Mary has appeared throughout the years in many places, each time giving a message calling the world to prayer and conversion of life. This constitutes one aspect of Mariology and Marian devotion, but should not be the be-all-end-all of Mariological study. Apparitions bring us deeper into the mystery of Christ and Mary, cultivating a hunger to know about the Mother of Jesus. This hunger can be satiated by discovering Mary in the scriptures, doctrine, dogma, and the Church Fathers.
So, the next time you want to pick up a book on Mary, consider reaching not for the book on the latest Marian apparition; instead widen your Mariological perspective by reading a work by one of the great saints of our tradition or some other book about Mary, rather than one about her many apparitions. For a jump start, see the list below.
Recommended Reading 
Scott Hahn, Hail Holy Queen
Paul Haffner, The Mystery of Mary
John Phalen, Living the Rosary
Fulton Sheen, The World's First Love
Hugo Rahner, Our Lady and the Church
Alphonsus Ligouri, The Glories of Mary
Fr. Michael Gaitley, MIC, Thirty-Three Days to Morning Glory
St. Louis de Montfort, True Devotion to Mary; The Secret of the Rosary
Paul VI, Marialis Cultus (available at Vatican.va)
The Marian Writings of John Paul II
Redemptoris Mater (available at Vatican.va)
Rosarium Virginis Mariae (available at Vatican.va)
—–
Endnotes
[i]Another such topic would include discussion on the so-called fifth Marian dogma, Mary as Co-Redemptrix and Mediatrix of all grace.
[ii]The author of this article acknowledges the role apparitions played in his own vocational journey to the seminary. He was fascinated with the stories of Marian apparitions during his formative years and grew up visiting the Shrine of Our Lady of Good Help.
[iii]Lawrence Porter, A Guide to the Church (Staten Island, NY: St. Paul's Alba House, 2007), 406.
[iv]William Cole, SM, "Presidential Address: The Future of Mariology," Marian Studies XL (1989), 55.
[v]The Pontifical International Marian Academy has published a marvelous document focusing on the sources of Mariology. See: Pontifical International Marian Academy, The Mother of the Lord: Memory, Presence, Hope translated by Thomas Thompson, SM (Staten Island, NY: St. Paul's Alba House, 2007), 3-32.
[vi]Porter, 406.
[vii]This opinion is expressed in a letter from the Congregation for Catholic Education dated March 25, 1988 entitled, The Virgin Mary in Intellectual and Spiritual Formation.