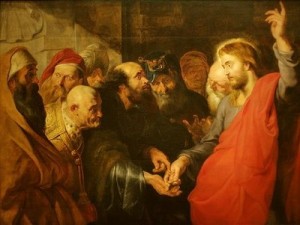 The cure of the leper in this morning's Gospel was more than a miracle of physical healing; it was a moral resurrection of a man who suffered from la disease that made him an outcast from society, doomed to crying out, as the first reading indicates, "Unclean, unclean," in order to warn people in the vicinity of his proximity. By virtue of his healing, the man was returned to his rightful place in society; his dignity was restored and his family reunited.
It was not only by His miracles, but also by His teachings, that Our Lord sought to establish our rightful place in society as God's children, rendering unto Caesar what is Caesar's, but first and foremost rendering unto God what is God's. The Lord restored the dignity lost by Original Sin and bound together the family of God in one faith, one law, one Lord.
I know that lately you have heard much concerning the a recent ruling by the US Department of Health and Human Services that forces nearly all private health plans to include coverage for all FDA-approved prescription contraceptive drugs and devices, including those that could induce abortion, as well as surgical sterilization. So narrow is the exemption for religious employers that it fails to cover the vast majority of faith-based organizations, including Catholic hospitals, universities, and service organizations that help millions of all faiths every day of the year.
To put it very simply, what has happened is the Department of Health and Human Services developed a list of services which all health care plans should provide without co-pay. Instead of keeping with the prevention of diseases like breast cancer, lung cancer, AIDS, sexually transmitted diseases and gestational diabetes, the department took it upon itself to include sterilizations, contraceptives and abortion–inducing drugs.
In effect, a government agency has now assumed the right to judge when a pregnancy may constitute a disease and thus be in need of preventive services which must be covered by insurance without co-pays. Please note that the Catholic Church is not seeking to legislate for those of other faiths or of no faith; it simply asks that we Catholics not be forced to violate our consciences by paying for procedures that we deem immoral and sinful.
If you wish to learn the truth about this, I encourage you to log on to the website of the United States Conference of Catholic Bishops; there you will find a point-by-point rebuttal of the misleading statements of the White House on this issue, as well as other valuable materials and clarifications. Please do educate yourself for we cannot remain neutral in the war between good and evil. Remember, as trite as it sounds, it still remains true that right is right if no one is right, and wrong is wrong if everyone is wrong!
The mission of the Catholic Church, divine in her origin, her structure and her purpose, is to do spiritually and morally, and even physically when possible, what Jesus did to the leper of today's Gospel: to restore fallen humanity to its rightful place in God's eyes, and this requires a healing and a restoration that is spiritual and moral, not only physical. Therefore, there is no aspect of human life, whether intellectual, physical, sexual or moral, that is not subject to God's law and enlightened by God's Revelation.
What is at stake in this current debate is no less that the freedom guaranteed by our Constitution to practice our religion without control by or interference from the State. Please do not underestimate the seriousness of this challenge to our First Amendment rights, for it constitutes a violation of our freedom of conscience. The last time I looked, Catholics were still considered citizens of the United States of America.
This homily was preached Sunday, 12 February 2012.