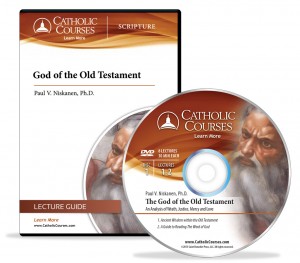 I just finished Dr. Paul Niskanen's wonderful Catholic Courses class, The God of the Old Testament. It's delightful. Full of "ah-hah" moments on a range of topics from historical oddities (I had no idea where the name "Jehovah" came from) to deep theological revelations, it packs some serious scholarly punch—all delivered in an engaging and entertaining style that left me wanting to know more about Dr. Niskanen himself.
Little stories about his years living in Italy, working as a clerk in a huge theological bookstore, family life and professoring, pepper the lectures and bring abstract concepts into vivid clarity while providing some good laughs along the way. He also uses examples drawn from popular culture— novels (including a particularly apt use of dialogue from The Hobbit), TV, movies, and even a pretty decent Jack Nicholson impersonation—to illuminate points and make complex concepts concrete and understandable.
His presentation is charismatic, light in tone and deft in touch, and reminded me of Teddy Roosevelt's observation in An Autobiography: "Personally, the books which I have profited infinitely more than by any other others have been those in which the profit was a by-product of the pleasure; that is, I read them because I enjoyed them, because I liked reading them, and then the profit came in as part of the enjoyment." In the same way, you'll listen to Niskanen's Old Testament course because it's interesting and fun, and be glad for the profit it imparts with the enjoyment.
Even more, there's a strong undercurrent throughout the course that shows a deep immersion in, and love for, the Word of God. That devotional element adds a depth to the course that leaves you thinking, and praying, as well as laughing at the jokes and raising your eyebrows in surprise at the bits of insight Niskanen shares. This is clearly a guy who knows his Scripture, and knows how to teach it.
I love lecture courses on the Bible, and have a bunch of them from Scott Hahn, Steve Ray, Brant Pitre, Jeff Cavins, Tim Gray, Catholic Scripture Study International, and others, and Paul Niskanen is right up there with all of them. Coming from Catholic Courses, I expected it would be good.
A perennial topic in the Catholic world seems to be that Catholic media—books, movies, music—don't measure up to their secular counterparts. I don't know about that. There's an awful lot of good Catholic stuff being made these days, and plenty of stuff in "mainstream" culture is pretty poor. In any case, it's definitely not the case with Catholic Courses.
I'm a devotee of lecture courses in general, not just Bible studies. I have listened to many courses on a range of topics from the leading audio-course companies, such as The Teaching Company, Portable Professor, and Modern Scholar, and the lecture series from Catholic Courses are just as good—usually better—than anything from these other companies. With luminaries like Anthony Esolen and Joseph Pierce in their stable of professors, it's no surprise. These are some truly amazing scholars and teachers, and they offer some fantastic courses at terrific prices. Paul Niskanen is a great addition to their company.
I thoroughly enjoyed his course, and learned much. I hope he'll do more Bible studies for Catholic Courses. I'd love to see studies on individual books of the Bible!