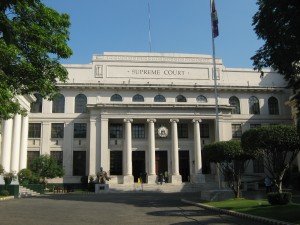 Pro-life advocates in the Philippines received some much needed good news on Tuesday in the fight against the anti-life Reproductive Health (RH) Law. The Supreme Court voted 8-7 to suspend implementation of the law "until further orders" from the Court. A status quo ante order issued by the Court in March to delay the law's implementation was set to expire on July 17
"Although only by the slimmest vote possible, we are glad that the Supreme Court has extended the status quo ante order (stopping the RH Law)," said Father Melvin Castro, executive secretary of the Catholic Bishops Conference of the Philippines' Commission on Family and Life. "On this feast of Our Lady of Mount Carmel, we continue to turn to the Lord and to Our Lady to intercede for the Filipino people and the Filipino family."
A spokesperson for President Benigno Aquino, who supports the law, called the delay "unfortunate" but said the Aquino administration would respect the Court's decision.
"Well, the extension is unfortunate; however, the extension will be respected by government," she said.
The Supreme Court heard oral arguments last week on the RH Law. There are currently 15 different petitions challenging the law's constitutionality. A second round of oral arguments is scheduled for July 23.
The Constitution of the Philippines provides that, "The State recognizes the sanctity of family life and shall protect and strengthen the family as a basic autonomous social institution. It shall equally protect the life of the mother and the life of the unborn from conception." But the RH Law gives the State powers and directives aimed at destroying the family unit and killing unborn life based on the misguided belief that the country's population must be controlled to achieve economic prosperity.
The law mandates that couples will not be issued marriage licenses without a "Certificate of Compliance" issued by the local Family Planning Office certifying that they "received adequate instructions and information on responsible parenthood" and "family planning." The law also forces medical professionals and businesses to provide a full range of "reproductive health services" using taxpayer funds, including contraceptives, abortifacients and sterilization services, regardless of conscientious objection. And the RH Law imposes fines or imprisonment on those who engage in one or more "prohibited acts" defined in the legislation, including engaging in "disinformation about the intent or provisions" of the law.
Dr. Ligaya Acosta, regional director of Asia and Oceania for Human Life International, said that although the delay in implementation only passed by one vote, "it is nevertheless a sweet victory for us, considering the intense pressure placed upon the Court by the Philippine government and the international death peddlers."
"We ask for continued prayers for our lawyers, and the enlightenment of our Justices," she said, "as well as the conversion of the RH Law supporters, and strength and perseverance for all of us in the battlefield."
This article is courtesy of HLI World Watch.