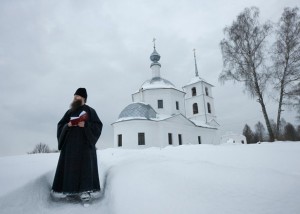 As Christians around the world got ready to contemplate the innocence of the child Jesus, last week the Russian Orthodox Church took on a UNICEF paper that says children have LGBT rights.
The Patriarch's Commission on the Family of the Russian Orthodox Church released a scathing statement criticizing a UNICEF position paper that urges countries to protect LGBT rights because, it says, it is in the "best interests of children." The Commission turns the tables on UNICEF and says: "Placing children to be raised by same-sex couples is a gross violation of the rights and interests of a child."
The Orthodox Commission said it was "gravely concerned" that UNICEF would throw its weight behind what it calls notions that are "devoid of sound international legal basis" and "contrary to most of the nations' traditional cultures, as well as norms of natural and religious morality." As a result, the commission says it is "harmful to the international community and will undermine the moral legitimacy of UNICEF and other UN bodies."
The UNICEF paper acknowledges that "there is no binding international instrument that explicitly addresses discrimination against individuals based on their sexual orientation and gender identity." At the same time UNICEF cites the non-binding opinion of UN experts on the Committee on the Rights of the Child (CRC), which monitors the implementation of the Convention on the Rights of the Child, to elevate sexual orientation and gender identity to the level of categories of non-discrimination like race, sex and religion.
The same UN committee told the Catholic Church this year that its doctrine on abortion was a human rights violation, and told Israel that circumcision is a violation of the bodily integrity of the child.
The position paper goes beyond a mere acknowledgement of the CRC's interpretation of the Convention on the Rights of the Child. It also purports to instruct countries on how they are to report to the Committee on the Rights of the Child: "CRC member states and signatories should report on discrimination on the basis of sexual orientation and gender identity, including discrimination and bullying in schools and educational establishments."
UNICEF invites countries to repeal laws that criminalize the promotion of homosexuality to minors or that prohibit the association of children with LGBT adults, such as the one that Russia passed last year, and then "equalize the age of consent for both heterosexual and homosexual conduct."
It also recommends providing "LGBT couples and their children with the legal recognition of their family ties." On this the Patriarch's Commission had a few choice words: "UNICEF should know that children are born of a union of a man and a woman, not of a same-sex union. It is in the best interests of a child to be born into and raised by family, so that he can know his loving and caring father and mother."
The Commission ends by calling upon the international community to "use every legal means to stop international bodies from abusing their capacities in such a manner."