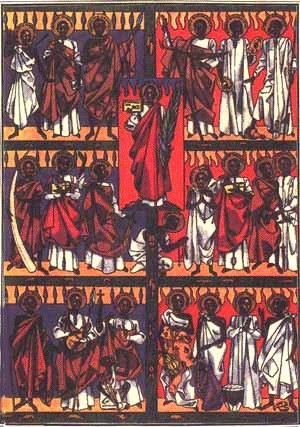 Charles Lwanga (also known as Karoli Lwanga) (1860 or 1865–June 3, 1886) was a Ugandan Catholic catechist martyred for his faith and revered as a saint in the Roman Catholic Church. He was born in the kingdom of Buganda in the southern part of modern Uganda, and served as a page in the court of King Mwanga II.
King Mwanga began to insist Christian converts abandon their new faith, and executed many Anglicans and Roman Catholics between 1885 and 1887; many of them were officials in the court of the king or otherwise very close to him, including Lwanga. After a massacre of Anglicans in 1885 the court's resident Catholic priest, Joseph Mukasa, reproached the king for the deed. Mwanga had Mukasa beheaded and arrested all of his followers. Lwanga took up Mukasa's duties, and secretly baptized those of his pupils who had only been catechumens on May 26, 1886. Charles Lwanga and 11 other Catholics were burnt alive on June 3 (another Catholic, Mbaga Tuzinde, was clubbed to death for refusing to renounce Christianity, and his body was thrown into the furnace to be burned along with Lwanga and 11 others). One of the reported reasons the ire of the king was particularly inflamed against the Christians was because they refused to accede to demands to participate in homosexual acts with him. Charles Lwanga, in particular, protected the pages from King Mwanga's homosexual sexual advances.
Charles Lwanga and his companions in death were canonized in 1964 by Pope Paul VI. Although the Anglicans could not be canonized, they were named "with the others, also deserving mention" for enduring "death for the name of Christ".
REFLECTION.  "It is as if you are pouring water on me. Please repent and become a Christian like me."  So said the martyr to his torturer as he—Charles Lwanga —was burnt to death.