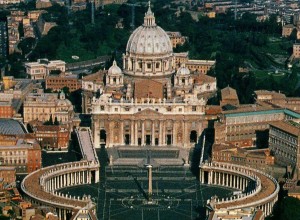 Here is the schedule for the papal prayer vigil [as of Friday evening].
5:45 pm (Rome time) — About 50 priests will begin hearing confession in designated areas under the Bernini colonnades. Pope Francis has asked that the Sacrament of Reconciliation (Confession) be made available throughout the evening because "true peace springs from a heart that is reconciled with God and one's brothers and sisters."
6:30 pm — A reader will read Pope Francis' September 1 Angelus address in which he called for the Day of Prayer and Fasting for peace.
7 pm — Vigil begins
– The Pope will greets the crowd, expected to be very large
– The ancient hymn "Veni Creator Spiritus" is sung, followed by Marian prayer to Our Lady Queen of Peace
– The Marian icon "Salus Populi Romani" (health or protection of the Roman people) is carried by four Swiss Guards from the obelisk in the center of the square while two girls carry bouquets of flowers.
– Pope Francis leads the recitation of the Rosary, which will include readings from the poetry of St. Therese of the Child Jesus. The Pope has a special devotion to this young, Carmelite Saint beloved around the world. She is also known as "The Little Flower." Her baptismal name was Thérèse Martin.
– A reflection offered by Pope Francis
– Adoration of the Blessed Sacrament
– Office of Readings. John 20:19-29  (25 minutes of prayerful silence, music)
– Eucharistic benediction
The event is expected to end at 11:00 p.m.
It will be televised live throughout the world by Vatican Television.