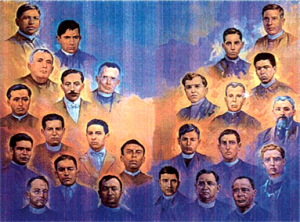 Between 1915 and 1937, St. Christopher Magallanes, and 21 other Mexican priests – as well as three lay companions — were martyred by the anticlerical Mexican government. They supported either covertly or spiritually or even sometimes directly the Cristero Revolt, an attempt in the late 1920's by Christians to win back religious freedom in a civil war. Unlike the similar effort a decade later in the Spanish Civil War, the attempt in Mexico failed.
Viva Cristo Rey was the Cristero slogan. "Long live Christ the King and the Virgin of Guadalupe!"
In 1992, Pope John Paul II beatified the Cristero martyrs. They were canonized in 2000.