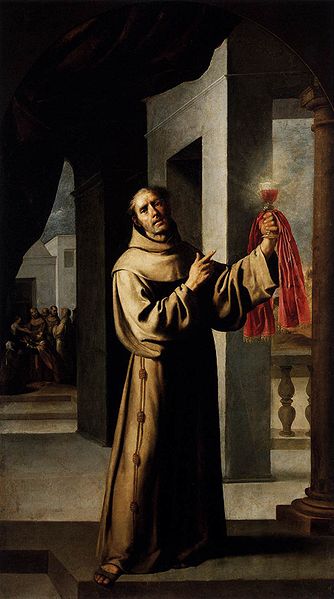 THE small town of Montbrandon, Italy, in the Marca of Ancona, gave birth to this Saint, also known in English as James of the Marches. When young he was sent to the University of Perugia, where his progress in learning soon qualified him to be chosen preceptor to a young gentleman of Florence. Fearing that he might be engulfed in the whirlpool of world excesses, St. James applied himself to prayer and recollection.
When travelling near Assisi he went into the great Church of the Portiuncula to pray, and being animated by the fervor of the holy men who there served God, and by the example of their blessed founder St. Francis, he determined to petition in that very place for the habit of the Order. He began his spiritual war against the devil, the world, and the flesh, with assiduous prayer and extraordinary fasts and watchings. For forty years he never passed a day without taking the discipline.
Being chosen Archbishop of Milan, he fled, and could not be prevailed on to accept the office. He wrought several miracles at Venice and at other places, and raised from dangerous sicknesses the Duke of Calabria and the King of Naples. The Saint died in the convent of the Holy Trinity of his Order, near Naples, on the 28th of November, in the year 1476, being ninety years old, seventy of which he had spent in a religious state.