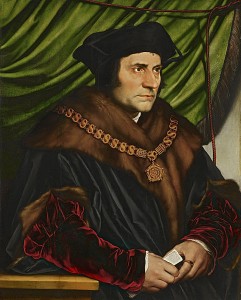 Thomas More was born in London, 1478. Upon the completion of humanistic studies at Oxford, he studied law in London and became a renowned attorney. He was for a time very seriously perturbed about his vocation in life, having felt and attraction toward both the Carthusians and Franciscans. He had no assurance of a calling to the religious life, however, so he married in 1505.
In 1510 his wife died and in a few weeks he married another, a widow who might take care of his four children, the eldest being barely five years old.
Thomas gathered around himself a distinguished circle of poets, scientists and lawyers. In 1516 he published his Utopia which gained him a reputation as a scholar.
In 1504 he was elected to Parliament; in 1518 secretary to Henry VIII, and in 1521 was made a knight. He reached the pinnacle of political success in 1529 when he became Lord Chancellor of England, succeeding the disgraced Cardinal Wolsey. But when his pleadings in the divorce question and against the anti-Catholic tendencies of the king were in vain, he resigned.
He refused to take the oath of supremacy declaring the king to be the supreme head of the church in England. Therefore he was sent to the Tower of London, sentenced to high treason, and beheaded in 1535.
Sir Thomas More was the foremost defender of papal supremacy in England. His cheerfulness and humor, his gentleness and kindness of heart, his high-minded charity and forbearance, his eminent piety, keenness of intellect, intrepid courage, and imperturbable tranquility of soul shone forth equally in prosperity, adversity and death. Pope Pius XI canonized St. Thomas More in 1925, calling him the "Martyr of the Papacy."
Reflection. St. Thomas More would have been a good candidate for canonization even if he had not died for the faith. His life shows that holiness is the best preparation against adversity. It enables us to say with St. Paul: "Who shall separate us from the love of Christ."