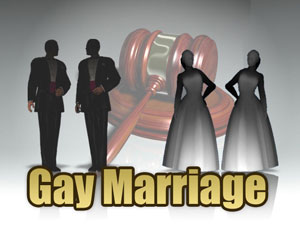 The U.S. Supreme Court announced Monday the dates it will begin to hear oral arguments on two pivotal cases on the issue of same-sex "marriage."
On March 26, the Supreme Court will hear Hollingsworth v. Perry, on the issue of the constitutionality of California's Proposition 8 – the voter-approved ban on same-sex marriage that was subsequently overturned by California courts.
On March 27, the justices will hear oral arguments on Windsor v. United States, which will consider whether the federal Defense of Marriage Act (DOMA) passed in 1996 violates the U.S. Constitution. The plaintiff challenges DOMA's right to define marriage for the purposes of the federal government, since some U.S. states have redefined marriage to include same-sex couples.
If the Supreme Court strikes down California's Proposition 8, which was passed by the state's voters in November 2008 by a 52-48 margin, then the 41 states that don't recognize same-sex "marriage" could be forced to begin doing so.
"Should the Supreme Court decide to overturn the marriage laws of 41 states, the ruling would become even more divisive than the Court's infamous Roe v. Wade decision," Family Research Council President Tony Perkins warned. "Marriage, unlike abortion laws in the 1970s, has been incorporated into the state constitutions of 30 states. Voters in these states will not accept an activist court redefining our most fundamental social institution."
If the justices overturn DOMA, then the federal government will be forced to recognize the same-sex "marriages" that have taken place in the nine states that have legalized it, which it currently does not.
In both cases, the Supreme Court justices may deny that the plaintiffs have the legal standing to file a lawsuit, dismissing the challenges without deciding the merits of either law.