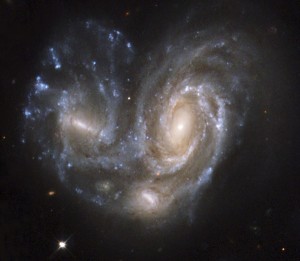 Earlier this year I went to the WPXI television studio in Pittsburgh to tape an interview. The technician who escorted me inquired, "What are you here to discuss today?" When I replied, "heaven," he asked, "Have they found it?" As he correctly reasoned, the discovery of heaven would indeed be newsworthy. Thoughts of heaven are on the minds of millions of Americans as we celebrate the birth of Jesus and cope with the tragedy at Newtown, Connecticut.
Speaking at the Sandy Hook Interfaith prayer vigil, President Barack Obama quoted words of Scripture to console the grieving: "For our light and momentary troubles are achieving for us an eternal glory that far outweighs them all" (II Corinthians 4:17). He asked God to "bless and keep those we've lost in His heavenly place."
In the face of both national calamity and personal loss, many find consolation in their hope of heaven. For centuries, people have claimed to have had near-death experiences that corroborate the Bible's teaching that heaven exists. However, in the last decades such testimony has exploded. Don Piper's "90 Minutes in Heaven," published in 2004, has sold five million copies. Todd Burpo's "Heaven Is for Real: A Little Boy's Astounding Story of His Trip to Heaven and Back" has been a best seller for the last two years.
In the last seven months, two physicians have described their near-dear experiences in phenomenally popular books: Mary Neal's "To Heaven and Back: A Doctor's Extraordinary Account of Her Death, Heaven, Angels, and Life Again" and Eben Alexander's "Proof of Heaven: A Neurosurgeon's Journey into the Afterlife." Recently Piper, Burpo, Neal, and Alexander have been interviewed on leading television talk shows, and "Newsweek" and "Christianity Today" have included feature articles about the afterlife.
The brisk sales of these books and the tremendous interest in heaven testify to the human desire to live beyond this world and to know what the afterlife is like. For Christians, the teachings of the Bible and the resurrection of Jesus provide the primary reason for believing in heaven. Nevertheless, many Christians find first-person accounts of journeys to heaven to be fascinating and reassuring. These experiences confirm Scriptural teaching that they will be reunited with loved ones and have a more intimate relationship with God.
Meanwhile, numerous neurobiologists, psychologists, philosophers, and theologians are accepting the legitimacy of near-death experiences. In "Evidence of the Afterlife" (2011), for example, scientist Jeffrey Long, after gathering and analyzing hundreds of near-death experiences, provides nine proofs for life after death.
Other Christians are not convinced, however, that these experiences are genuine or credible. These accounts, they protest, are contradictory and theological suspect and divert attention from the church's mission to save souls and help the hurting. Those who have had near-death experiences disagree about whether they saw tunnels of light, pearly gates, gardens, and angelic beings or heard music. They describe God in various ways, some of which are inconsistent with biblical teaching. In many near-death accounts, God accepts people unconditionally regardless of whether they affirmed Christ as God and savior or how they acted on earth. Some also protest that focus on heaven—"pie in the sky bye and bye"—distracts Christians from their more important calling to improve this world.
As a result, some Christians reject these experiences as either hallucinations (which can be explained scientifically) or the work of the Devil. However, since orthodox Christians have written many of the recent best-selling accounts, skepticism about their credibility has diminished somewhat among Christians. Moreover, many near-death experiencers become more loving of and caring toward others.
Defenders of these near-death experiences also emphasize that those who have them are not theologians and are trying to describe things that words are inadequate to explain. That people interpret their near-heaven experiences in light of their own religious and cultural backgrounds is not troubling. They have no other lens or language with which to describe what they saw and heard. Moreover, while the content of these experiences may differ, their nature and their impact on those who have them are remarkably similar across cultures and time periods.
It is striking that in our acquisitive, secular age, when many in the academy and media attack Christianity and try to remove or limit its public influence and as the number of people who claim no religious affiliation grows, that interest in the afterlife is increasing. It suggests that no level of affluence or material comfort is ultimately satisfying to most people. We yearn for something more—to spend eternity in a beautiful, serene environment, bereft of the world's problems, in the presence of our Creator, surrounded by family and friends. Their glowing descriptions of encounters with God and loved ones help make these near-heaven experiences so compelling, comforting, and popular.