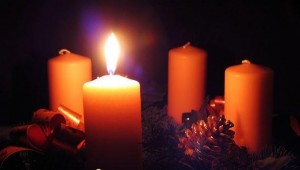 How do we make "Keep Christ in Christmas" more than a bumper sticker in our family's life? This Advent, let us prepare to welcome our Savior into our homes and into our hearts in a new and special way, setting our own pace for the season and setting aside the commercial pressures of the culture.
Our journey to a better Christmas begins with virtue.
From a Catholic perspective, virtue is "a habitual and firm disposition to do the good" (Catechism of the Catholic Church 1803). There are different kinds of virtue, but all are gifts from God for the sole purpose of making us more like him. While our entire lives should be a continual pursuit of becoming more like God, Advent is a perfect time to renew our commitment to this calling. Advent is supposed to be a period of active waiting for the coming of our Lord, a time in which we spiritually "clean house" and purge our souls of sin and adorn them with virtue, so that Jesus may find in them a proper resting place. No place will feel as comfortable to him as a soul that is receptive to his grace.
To help you on the way, this Fathers for Good guide will focus on the four cardinal virtues: prudence, temperance, justice, and fortitude. All other human virtues stem from these four. Contemplating one of these pivotal virtues during each week of Advent and applying them to our lives should help us spend the season in a prayerful mindset, so that each member of our families is able to properly greet the Christ Child when he comes.
This week, we match the cardinal virtue of fortitude to our Advent journey.
FIRST WEEK OF ADVENT (December 1-7): FORTITUDE
The Catechism of the Catholic Church defines fortitude as "the moral virtue that ensures firmness in difficulties and constancy in the pursuit of the good. It strengthens the resolve to resist temptations … to conquer fear" and "even to renounce and sacrifice his life in defense of a just cause" (CCC 1808). The Church's many martyrs were asked to prove their fortitude by laying down their lives, and we look to them for very tangible examples of how this virtue can be made manifest. However, most of us are not called to give up our lives in such a literal way, but we are all still called to fortitude.
Fortitude helps us to reject evil and pursue good at all costs. To grow in fortitude, we must commit ourselves to practicing perseverance and courage in the daily battle against sin. For the younger members of our families, this may mean saying grace at the lunch table in their public school. For the older ones – including dads – it could mean charitably defending the Church's teaching on marriage to an antagonistic co-worker. But above all, growing in fortitude means constant conversion. We must be aware of our weakness and turn to the Father for strength, and especially go to him for forgiveness when we have sinned, so he can give us the graces we need to continue the journey to sainthood.
Beginning the season of Advent with a focus on fortitude encourages us to be heroic and steadfast from the outset. Advent is hard, partly because none of us likes waiting, but also because, as the three purple candles on our Advent wreaths express, it is a time for penance ¾ penance for our own sins as well as those of others. Especially today, it is easy to get discouraged as we witness the many attacks upon our Lord and his Church, even within our own extended families, perhaps, or in our own doubting and duplicitous hearts. However, we have been given the gift of Advent as a time to atone for the sins of the world and invoke God's mercy upon others, remembering his mercy in our own lives. Fortitude gives us the strength to do so.
The second reading from the First Sunday of Advent challenges us to "throw off the works of darkness and put on the armor of light" (Rom 13:12), showing us that conversion must always start with ourselves; it takes incredible fortitude to be able to conquer our own sin. To put this into practice, we can start the season by going to Confession (bring the whole family) or by making Advent resolutions to help strengthen our resolve against evil – e.g. saying a family rosary each night, doing a weekly holy hour, going to daily Mass. By increasing the virtue of fortitude in our souls, we create a sturdy shelter for the babe who was born in a meager stable years ago ¾ we give him a home fit for a king.
Advent should also include time for planning a joyous time of Christmas gift-giving, especially when children are involved. Here is a gift guide to consider for the First Week.
Little ones: St. Michael the Protector bear
Middle ones: My Christian Passport
Older ones: Cranium: Bible Edition game
Adults: St. Benedict cross
– See more at: http://www.fathersforgood.org/ffg/en/big_four/advent2013_week1.html#sthash.Q9wr3MPV.dpuf