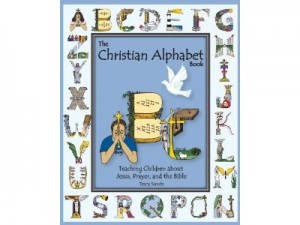 In 1999, Tracy Sands was inspired while listening to Christian music at a church event. With only a pen and the program she received at the door to work with, she began sketching quickly. The urge to create was so strong she "felt as though she would pop if she didn't get the ideas out of her brain immediately." Over the next nine months, she would revise those initial sketches and ultimately create The Christian Alphabet, a series of drawings of the letters of the alphabet filled with Christian symbolism designed to help teach children about the faith.
The Christian Alphabet Book is a new book to help share this alphabet with the world. Each letter of the alphabet is featured on a two-page spread. The right-hand page showcases a large image of the letter design along with a relevant scripture passage and an activity to find the symbols hidden in the letter. The left-hand page includes a lesson related to the letter and a prayer.
For example, the letter A shows a girl praying, holding a cross. "A is for Always. Always means all the time, never-ending, forever. God always loves us and is always with us."
The tradition of illustrating letters is an ancient one. One need only think of the beautiful medieval illuminated manuscripts. Sands, who has a Master's Degree in Art Education and is the mother of three young children, has put a modern take on this idea. Her art is simple and appealing and it is evident that a great deal of thought and imagination went into this project. In the back of the book, Sands has included a detailed listing explaining the symbols in each of the letters.
While this is a Christian alphabet and is intended for a wide audience, there is nothing in this book that is contrary to the Catholic faith and a Catholic priest helped advise Sands while creating the book.
The Christian Alphabet Book would be ideal for children ages four through eight, although other ages can certainly appreciate and learn from it as well. The associated website, www.ChristianAlphabet.com also features a Christian version of the alphabet song to help children learn the concepts included in this book.