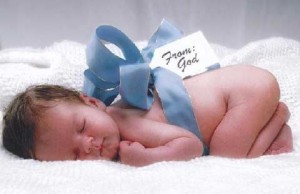 Every parent should consider their child a gift and a miracle, because every human life is an unrepeatable, absolutely incredible, physical manifestation of God's image and His love in this world. Our daughter Clare is a miracle because of that truth; but there's something even more miraculous about her story that merits repeating.
In this month of January, when hundreds of thousands will travel to our nation's capitol, mourning 39 years of the legality of abortion in America, we need the clarity and light Clare brings us even more. Clare is an abortion holocaust survivor.
Before we knew she existed, our future adopted daughter was in a Planned Parenthood, in-utero, having her life scheduled to be "terminated." Through a miracle of grace, a technician let the sound of baby Clare's heartbeat resound in that clinical room of torture (This is not the current practice of Planned Parenthood, but there appears to be some current legislation urging this form of prenatal monitoring to be law). On hearing the rapid and muffled tones of that little heartbeat, Clare's birth mother changed her mind about the abortion, got up, and left America's leading abortion provider.
Walking across the street, she found a similar place for all intents and purposes; a crisis pregnancy center for women offering help and resources. But rather than a place of sacrilege against new life, this was a sanctuary for life. A tapestry of Our Lady of Guadalupe, Mother of the Unborn, greets the women as they enter. They are offered the truth about their options as well as support systems to see them through their pregnancy and beyond.
Having already adopted our beautiful son with a slightly similar story of survival, my wife and I received a call and a question from our friends at the center: "There's another baby whose mother wants to form an adoption plan. The story is complicated. Are you open?" We took about 4 seconds to make our decision. Thought process: You said baby. We're open.
We were on pins and needles the whole pregnancy. We prayed for the health and stability of the birth mother, knowing she was a soul in difficult straits.
At one point in the pregnancy, Clare's birth mom threatened to break her water. She was nearly undone by anxiety and from an attempt to hide her pregnancy from everyone.
We felt deeply the vulnerability and fragility of our future daughter's life. As Pope Benedict XVI once said, "How can it be that the most wondrous and sacred human space – the womb – has become a place of unutterable violence?" And all the while little Clare was forming in the warm darkness of the womb, oblivious to how close she came to never seeing the light of day.
And then the day came.
Our friend from the pregnancy center who took over support for Clare and her birth mother was at the mother's bedside at the hospital. There were complications; the labor wasn't progressing and the possibility of a c-section was looming. The birth mother was rejecting this plan, angry and eager to leave quickly after birth.
It was at this moment that our friend, nearby and whispering the Divine Mercy chaplet just at the hour of Mercy, saw things turn around. Clare was born in the normal course, healthy and strong. Perhaps overwhelmed by the power this precious life would have over her heart, or simply in an anguished attempt to return to the life she knew before, the birth mother refused to know the sex of the baby she had just brought into the world.
As was her stated desire, she never held or even looked upon Clare. Instead, our friend cradled her, singing Hail Mary's to her and telling her how much she was already loved, already so cherished by Jesus and by a mommy and daddy close by. She said over and over again, "You are full of grace."
On the third day of her life, she came to us. It was Sunday, August 15, the Feast of the Assumption of Our Lady. An uncommon and soft rain was falling that summer day (just another sign of grace) and it commingled with our tears of joy. Holding her was unreal. Miracle of miracles!
We chose the name Clare, a name that means bright or clear, and for the year and half she has been with us, she has been just that. Quick to laugh, to smile, to let wonder and awe at little things overwhelm her. She has been capturing hearts just like ours with her sweet charms – at church, the mall, the grocery store. With every compliment on her beauty, like the Ancient Mariner, we feel compelled to tell her tale.
We still thank God for her birth mother, and continue to pray for her – she chose Life and we are forever blessed by her choice. As for Clare, she is living proof that Life is good, and that Life will win. That clarity and light breaks into this world for us every time she smiles, and with every precious beat of her heart. The heart that, in fact, saved her.
The YouTube video of her story is here: http://youtu.be/FYpJ9RW0Zow