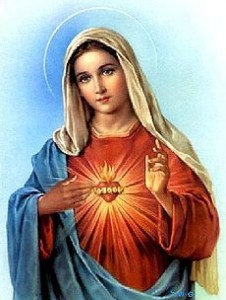 St. John Eudes was responsible for activating the devotion to Our Lady's Heart and giving it the stimulus which grew into this modern feast. In 1942, Pope Pius XII confided the whole human race to the care of Mary's Immaculate Heart in a solemn act of dedication, and established the feast celebrated today.
The devotion to the Immaculate Heart of Mary is the homage paid by the faithful to Our Lady's Heart as the symbol of her complete and entire fidelity to God. It was from the Gospels that the early believers gleaned the account of Mary's inner life. The apparition to Catherine Laboure in 1830, authorizing a medal with a representation of the Immaculate Heart, furthered the devotion. The wonders at Fatima in 1917 have enhanced it; the renewal of the First Saturday devotion in honor of Mary Immaculate has added to its popularity.
Reflection: The Heart of Mary is the perfect image of the Sacred Heart of Jesus. Therefore she is our model and patron. Only through her can we hope to have our cold hearts changed into the likeness of the Heart of Jesus.