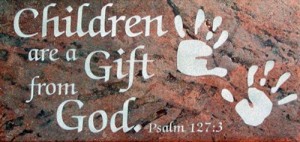 One Sunday a while back, a family of five filled a pew at church near where I was sitting during Mass. That family grabbed my attention.
The pew was much larger than needed to accommodate a regular group of five. But this family, in addition to the two parents, included three young children. Three energetic, rambunctious young children.
The parents stayed busy throughout that Mass. The kids took turns standing on the pew, reclining on the pew, playing with toys, pawing at Mom and Dad. At one point, when two of the kids were occupying the parents' attention, the youngest of the trio escaped — she dashed out of the pew and down the aisle. Mom chased her down.
Some of the people nearby looked at the family annoyed and exasperated. I loved it.
I love seeing young families, complete with those little children, attending Mass together. I wish I saw more of them, frankly.
That's one of the things that concern me about the Church: Not enough young families.
Where are they? Some might be at Protestant churches, as they have done some "church shopping" and found places they feel are more energetic, more "modern," more hospitable and less "demanding" theologically. Some might have lost their faith or deemed it not important in their lives. Some might be lazy.
And some might not feel welcome, some might feel embarrassed that they can't "control" their children's behavior at Mass, some might not want to see the stares from judgmental church-goers who would prefer life fit into their personal mold.
Often, churches have "cry rooms" and some church-goers hope parents will take their young families there, where the activity and noise can be out of eyesight and earshot of everyone else — and where the family essentially is secluded from the Mass activity. Or we have special children's Masses, where some people wouldn't dare venture.
Whatever the reason for their absence, the children and their young parents are left out of the Church community.
Oh, some of those children get their religious education by attending a parochial school and others by attending the parish school of religion. Of that group, however, only a percentage actually attends Sunday Mass. And there are countless other kids who were baptized but never again see the inside of a church.
When children are missing from Sunday Mass — and when their parents as well — part of our community is missing. We aren't complete. We aren't whole.
I like something that "Harry Potter" author J.K. Rowling wrote: "Youth cannot know how age thinks and feels. But old men are guilty if they forget what it was to be young."
I remember when Donna and I had four young children. Our faith was strong, and our desire to expose our children to that faith was strong. And we attended Mass every Sunday. Not only that, we sat in one of the church's front pews, even when one of them fell asleep on my shoulder or was wanting to be held, then wanting down, then wanting to be held again. Sometimes they spoke louder than we wished. Sometimes they crawled around on the floor. But we were there, and they were there with us.
They knew that Mass was the most important place to be on a Sunday morning, and why.
In time, they learned how to behave not just at Mass, but any public place. They learned to be reverent. They got to know the priests and people who usually sat around us. They came to know these people as their community.
Would I prefer that all children were perfectly behaved at Mass? Sure. It's a special time for me, a time of prayer and worship, and I would like not to have my eyes and mind distracted. But not at the expense of losing some important members of my parish community
I think about when Jesus was teaching the people one time. Little children came to him for blessing. Some of his disciples wanted to shoo those kids away. Jesus was adamant: "Let the children come to me."
I like to think that some of those children grew up to be some of the first Christians.
Having kids at Mass won't guarantee devoted church-goers when they grow up. But what chances do they have if they don't?
And how much poorer are we, both now and in the future, for their absence?
This article originally appeared in The St. Louis Review and is used with permission.