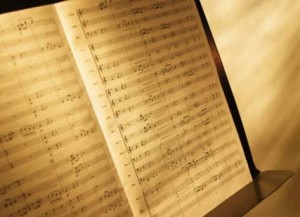 It's been 50 years since the Beatles first landed in America and appeared on the Ed Sullivan Show.  I'm a pretty avid Beatles fan, and like following the continued legacy of the band.  My favorite aspect of the Beatles is the songwriting team of Paul McCartney and John Lennon.
The Beatles were a phenomenon many believed would be just another fad, like so many before them, and so many after them.  Though the screaming fans chasing after the foursome everywhere they went did die off, the power and influence of their songs have not.
Paul McCartney was not a complicated person.  He had a happy childhood with two loving parents who supported his musical ambitions.  John Lennon was a very complicated individual with many tragic aspects of his upbringing.  Both of these very different men were able to come together and contribute their songwriting talents in writing simple, happy love songs in those first few years of their recording career.  Consider just the following songs released between 1962 and 1964:
Love Me Do,  Please Please Me,  P.S. I Love You,  All I've Got to Do,  All My Loving,  Do You Want to Know a Secret?,  From Me to You,  I Saw Her Standing There,  I Want to Hold Your Hand,  I'll Get You,  It Won't Be Long,  She Loves You,  Thank You Girl,  This Boy,  And I Love Her,  Any Time at All,  Can't Buy Me Love,  Eight Days a Week,  Every Little Thing,  A Hard Day's Night,  I Feel Fine,  I Should Have Known Better,  If I Fell,  I'm Happy Just to Dance with You,  She's a Woman,  Things We Said Today
I'm sure you recognize many of these.  And that's just within their first three years.  They are catchy, beautiful, short and sweet, very singable, and very endearing. These songs express the longing we all have for intimacy with another.
Paul McCartney is the one critics claim is the happy love song writer, and John Lennon wrote more strange and angst filled songs. Like all stereotypes, it has elements of truth to it.  However, Lennon did write love songs (e.g. All I've Got To Do, Do You Want To Know A Secret?, Julia, Don't Let Me Down) , and McCartney wrote non-love songs (e.g. I'm Down, I'm Looking Through You, For No One, Sgt. Pepper, Helter Skelter).
I would like to point out two songs that Lennon himself referenced as love songs.  In an interview with Rolling Stone Magazine on December 5, 1980 (just 3 days before he was murdered) about his album, Double Fantasy (my favorite Lennon solo album).  Lennon said that the song Woman was the "grown-up" version of his 1965 song Girl.
If you have never heard this song, please listen to it.  In my opinion, it's one of the most beautiful love songs ever written. It is also quite a lesson in what true love between a man and a woman really is. You can tell he was deeply in love with his wife, Yoko Ono.
Let's compare the two songs:
GIRL

Is there anybody going to listen to my story, all about the girl who came to stay?

She's the kind of girl you want so much, it makes you sorry

Still, you don't regret a single day, ah girl

When I think of all the times I've tried so hard to leave her, she will turn to me and start to cry

And she promises the earth to me and I believe her, after all this times I don't know why

Ah, girl

She's the kind of girl who puts you down when friends are there, you feel a fool

When you say she's looking good, she acts as if it's understood

She's cool, cool, cool, cool, girl

Was she told when she was young that pain would lead to pleasure?

Did she understand it when they said

That a man must break his back to earn his day of leisure?

Will she still believe it when he's dead?  Ah girl

WOMAN

Woman, I can hardly express, my mixed emotion at my thoughtlessness

After all I'm forever in your debt

And woman, I will try to express my inner feelings and thankfullness

For showing me the meaning of success

Woman, I know you understand the little child inside the man

Please remember my life is in your hands

And woman hold me close to your heart, however distant, don't keep us apart

After all it is written in the stars

Woman please let me explain, I never meant to cause you sorrow or pain

So let me tell you again and again and again

I love you, yeah yeah, now and forever
You can see that Girl has adolescent game playing and immature behavior. Woman shows the maturity, gratitude, humility, mutual respect, and deep sense of partnership that are required for a successful relationship and marriage.
It's hard to believe John Lennon has been dead for 33 years.  It's hard to believe Paul McCartney and Ringo Starr are in their 70's.  In my lifetime, all four Beatles will no longer be among the living.  But the beautiful songs they shared with the world will endure for as long as there is a civilized world.  Their contributions to love and the human spirit through the gift of music is a blessing to us all.
Long live the Beatles!  Long live happy, beautiful love songs to inspire our hearts!