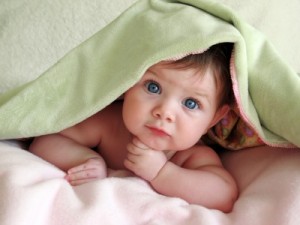 Every morning, my six month old baby boy looks up out of his crib with wide blue eyes and smiles around his pacifier as I pick him up.  I'm his Mama, you see, and he loves me.  But I'm not the only mother he has known.  For nine months, he grew and was lovingly cared for by another woman.
I didn't know her then, but she became my hero.  As a cradle Catholic it is easy to call myself pro-life.  I object to the death penalty and euthanasia.  I wrote a letter to my congressman opposing FOCA.  When my husband and I were told it would be extremely dangerous for me to become pregnant because of a pre-existing medical disorder, we knew we still wanted children.  So, we followed our hearts and started the adoption process.
Between the background checks, the fingerprinting, the biographies, the profiles and the interminable waiting, infant adoption is something like an obstacle course.  Then, when all the rigamarole is over, you encounter the most daunting part of all: the birth mother.
In the beginning, I was terrified of her.
Before we got the call telling us that we'd been picked, we spent 18 months wondering about this woman. Who is she? How did she find herself where she is? Soon other, more frightening, questions also came to our minds. What if she changes her mind? How much do we want her in the baby's life after we bring him/her home?
Our son's birth mother lived in a neighboring state and, thankfully, was relatively secure in her decision to make an adoption plan.  When we spoke with her the first night, she referred to the baby as "your son" (she already knew she'd have a boy) and I think we both breathed a sigh of relief.  Later, we experienced the joy of not only receiving our son from her, but the amazing gift of being in the room when he was born.
When the time came, I helped her brace as she pushed him out while my poor husband sat in the corner turning different shades of white and green.  Once the baby boy was placed on her stomach, she did something I'll never forget.  She reached down, took my hand, and placed it on his stomach.  She knew the importance of bonding, and wanted it to start for us immediately.
We are extremely blessed that she is the woman who carried and gave birth to our son.  From the very beginning, she selflessly gave time that she could have insisted was her time with the baby to us, so we could hold him, bond with him, and know him right away.
Our son's birth mother made the greatest sacrifice that I can imagine. She understands what a child needs and knew she wasn't in a position to provide it. Whatever her political or religious beliefs, she understands that the child she carried to full term is a life, and so she bravely endured the discomforts of pregnancy and labor pains knowing all the while that she was not going to keep the child. (I know this because she told me.)
For the rest of my son's life, I will be his Mama.  I will be the woman who kisses his skinned knees, reads to him before bedtime, guides him through homework, and helps him get ready for prom.  I will be the recipient of hand-drawn Mother's Day cards, school projects, and popsicle kisses.  But we will always tell him about his birth mother.  We'll make sure he knows about the great love she has for him.
This article originally appeared on Ignitum Today and is reprinted with permission.