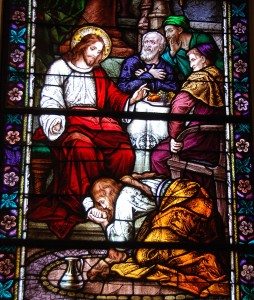 I have witnessed the tears of many people. Some have been tears of joy for an answered prayer. Others have been tears of sorrow when mourning the death of a loved one who just died of cancer or unexpectedly. Some tears were shed when someone shared a personal story that called to mind painful memories, such as the trauma of divorce. And then there have been tears of repentance, like the tears shed by the woman in Luke's Gospel (7:36-8:3).
In the presence of Jesus Christ, the Son of God, this woman was moved to the point of tears by which she washed Jesus' feet to show her sorrow, remorse, and repentance.  This act of love she performed, this act of faith, saved her from her sins and brought her forgiveness.
Jesus also was moved with pity for the widow of Nain. Instructing her not to weep, Jesus went and touched the coffin of her son, and he rose and began to speak.
The Lord hears the cry of the poor; He sees the tears of his children and He responds with compassion, love, and mercy. The Old and New Testaments give multiple testimonies to the power of tears.
Take, for example, Psalm 6:7-9 (NAB): "I am wearied with sighing; all night long tears drench my bed; my couch is soaked with weeping. My eyes are dimmed with sorrow, worn out because of all my foes. Away from me, all who do evil!  The Lord has heard my weeping." In 2 Kings 20:5 we read what Isaiah told Hezekiah: "Thus says the Lord, the God of your forefather David: I have heard your prayer and seen your tears. I will heal you."  In Psalm 126,  we hear: "Those who sow in tears will reap rejoicing."
Turning to the New Testament, John records in his Gospel that Jesus wept. Tears were also important to St. Paul. In 2 Corinthians 2:4, Paul writes:  "For out of much affliction and anguish of heart I wrote to you with many tears, not that you might be pained but that you might know the abundant love I have for you."  Similarly, Paul writes in 2 Timothy 1:4: "I yearn to see you again, recalling your tears, so that I may be filled with joy, as I recall your sincere faith."  The power of tears is also expressed in the Letter to the Hebrews 5:7: "In the days when he was in the flesh, he offered prayers and supplications with loud cries and tears to the one who was able to save him from death, and he was heard because of his reverence."
Beyond scripture, we can also turn to the liturgy to realize the power of tears. The collect for the memorial of St. Monica reads:
O God, who console the sorrowful and who mercifully accepted the motherly tears of Saint Monica for the conversion of her son Augustine, grant us, through the intercession of them both, that we may bitterly regret our sins and find the grace of your pardon. Through our Lord Jesus Christ your Son, who lives and reigns with you in the unity of the Holy Spirit, one God, for ever and ever.
Just as the Lord was moved with compassion for the widow of Nain or the sinful woman who bedewed the feet of Jesus, God was compassionate and merciful toward St. Monica. For years, Monica cried and begged the Lord for Augustine's conversion. The psalmist was correct when he proclaimed: "The Lord has heard my weeping."
After his conversion, St. Augustine wrote many beautiful prayers about the gift of tears. Spirit Daily has a compilation of these prayers here.
There is a beautiful theology that surrounds the notion of tears. Tears are a form of prayer which we can offer to God, be it tears of joy, sorrow, or repentance. And sometimes, our tears are even a response to God's promptings in our prayer because we are fearful of what our "yes" might mean.
The next time you are overwhelmed and need to shed some tears, know that you have the shoulder and the feet of a loving and forgiving God to cry on. Whatever the circumstance may be that prompts your tears, may the embrace of our God be yours.
Further Application:
There is a devotion to the Tears of Our Lady.  To learn more about the devotion, visit this link.