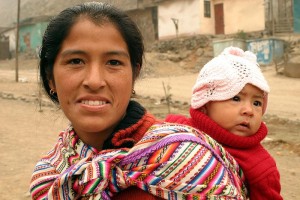 God gives mothers whatever good they ask for their children. Why? Because they are humble. They are living signs of humility and only the humble are filled with God.
Jesus also gifts mothers with a share of His sorrows and passion to be applied to the salvation of their children.
"It makes me happy to suffer for you, as I am suffering now, and in my own body to do what I can to make up all that has still to be undergone by Christ for the sake of his body, the Church." (Colossians 1:24)
Mothers are "other Christs." I am certain that we will find out in eternity that a significant percentage of the population in heaven will have gotten there, in a major part, because of their mothers. Their mothers will have interceded for their children like the Blessed Mother did at the wedding feast at Cana. When the Blessed Virgin Mary told her son Jesus that those at the wedding (or shall we say her children) had no wine He swiftly gave her what she asked for. (John 2)
I believe the wine represents Jesus. At the appeal of Mary, we, her children, are transformed from bland dirty water into exquisite wine; we are transformed into "other Christs" by His grace. Our Blessed Lord Jesus never refuses His mother's requests.
Like Mary, mothers are powerful with God. They are the true definition of tough and will let nothing stand in the way of the good of their children. No price or humiliation is too great for a mother.
Hear this Gospel story about an amazing mother willing to sacrifice anything for the good of her child. Though she is a grandiose soul she is willing to get down on her knees like a dog to eat scraps off the floor for her beloved child.
A woman whose little daughter had an unclean spirit heard about him and straightaway came and fell at his feet. Now the woman was a pagan by birth, a Syrophoenician, and she begged him to cast the devil out of her daughter. And he said to her, "The children should be fed first because it is not fair to take the children's food and throw it to the house dogs."

But she spoke up: "Ah, yes sir," she replied, "but the house dogs under the table can eat the children's scraps."

And he said to her, "For saying this you may go home: the devil has gone out of your daughter." So she went off to her home and found the child lying on a bed and the devil gone. (Mark 7:24-30)
What an awesome example of sacrifice, love, costly humility, and tenacity of a mother! And Jesus drew this astounding example out of her as an example to His disciples and as an example to us.
The name "mother" should be whispered with reverence. This story of the Syrophoenician woman is representative of all mothers. There are really no bad mothers, only good mothers (at least amongst those who try) who do their best and persevere regardless of any shortcomings. Yes, we all fall short, but God makes up for this.
A mother's life is made up of so many tens of thousands of seemingly ordinary small tasks and sacrifices, but in fact each has an infinite value, when united with Jesus. Mothers have a special dignity that God has blessed them with. Mothers should be confident in this. Mothers should go through life saying, "I am a mother; I am fulfilled! I have no fears or worries because God is with me, and He loves me in an extraordinary way."
I am convinced, without a shadow of a doubt, that our Father in heaven will never refuse any mother when she humbly intercedes for her children. God addresses these words to all of us, but especially to mothers,
And I tell you, ask and you will receive; seek and you will find; knock and the door will be opened to you. For everyone who asks, receives; and the one who seeks, finds; and to the one who knocks, the door will be opened.

What father among you would hand his son a snake when he asks for a fish? Or hand him a scorpion when he asks for an egg? If you then, who are wicked, know how to give good gifts to your children, how much more will the Father in heaven give the holy Spirit to those who ask him ? (Luke 11:9-13)
This goes for a mother's life of giving, praying, and interceding here on earth, as well as when she stands immersed in God at the gates of heaven, with utter confidence that our Father of Mercies will grant her that each of her children will enter those gates of paradise. For those mothers who spend themselves worrying and praying for their children, take this for certain, your prayers will be answered. Mothers, after a life of spending themselves, will hear the words, "Well done good and faithful servant" (Matthew 25:21), and they will be heard by God.