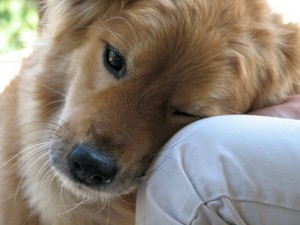 Do you remember your first baby? The very first baby that you adopted shortly after taking your marriage vows — the practice baby?
Not everyone runs out to get their practice baby — sometimes things come up like, "My husband is allergic."
Practice babies come in a variety of shapes, sizes and colors. Ours was a German Shepherd named "Mesa" who came from a farm in Moline, IL. The parenting instinct often comes upon us so quickly that we can't wait for test results, the "right time" or a nine month incubation. Practice babies are walked, displayed with pride and cuddled — a display of empathy and caring that nurtures a home.  You may have seen a variety of practice babies at your public parks — young couples walking a pup that is receiving all the attention in the world.
And then the day comes when your own new baby arrives, Spot, Rover and/or Fluffy takes a backseat. And that's O.K. A child who grows up in the company of a four-legged pal achieves levels of empathy not to be rivaled. Unparalleled friendship, a furry sounding board or a paw to hold will open up a new world of caregiving.
Other benefits begin to emerge. What can surpass the humor brought into the home as daddy gets silly and shows his muscles to the dog all the while shouting, "Who's the man? Who's the man?" Don't forget the opportunities for exercise — My husband said he was going to start running with our dog and so I bought him a nice comfy jogging suit for his birthday. He runs a block and then takes a nap in it!
The practice baby sows seeds that continue to grow and flourish. Whether your practice baby comes with tabby stripes or a deep "woof" — that first new presence will bring a world of compassion to your home.