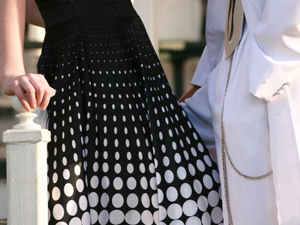 Having a large family brings many blessings. One that might surprise some people is the blessing of not having enough money.  Most people would not understand how less could be more. After all, part of the reason large families became an endangered species is because so many couples stress about money when contemplating more children, and instead often opt for no more children.
When we chose to rely on faith rather than savings (we had more of one than the other) it gave us the courage to have eight children of our own and then accept two more orphans from Kenya.  I know many of you are wondering: How did they do it?   Sorry, but this story is not going to be about budgeting on a wing and a prayer. Instead, it is about the blessing of not having enough money for everything you want.
This is a story about a prom dress.  My first and oldest daughter is going to prom this spring, Even if I wanted to, I can't buy her a $400-$500 prom dress.  "Oh, she's exaggerating!" some of you with very young children might be saying. "No one spends that much on a prom dress!"  Oh, but they do.  So, when Mary first had one prom dress and then a second one that she was going to borrow, fall through, she was in a panic.  The dresses did not fit right and could not be altered.
Creative Solutions
Her six older brothers had survived prom seasons fairly well.  My oldest son  had a part-time job and chose to pay the money to rent tuxes for several of the proms he attended. My next son figured out how to make his own.  He had a tuxedo shirt that was part of his band uniform. I found a pair of dress black pants in his size for, I-kid-you-not, $1.50. Trust me, they were nice looking pants.  The black matched my husband's black suit coat perfectly. A black bow tie topped the look off.  It may not sound so spiffy on paper but he looked very sharp and he actually attended nine proms in it throughout high school.  Being outgoing and friendly, there were girls from other schools needing dates who invited him over the years.   The next four boys rented tuxes once or twice but two of the boys found nice suits at thrift stores and wore them some years.  Again, trust me, they were very nice suits.
So, that was how the Armstrong boys did prom.   This spring, Mary started out on the frugal path but circumstances beyond her control left her in a bind.  "Don't worry, we'll figure out something," I reassured her.
 "You don't understand," she fretted. I've been to every store in town and there is nothing that I can afford and you would never pay that much for a dress."
Mary had no illusions that spending half a grand on a dress for one night would never happen in our family.   After it became clear that the second dress was no-way going to work and with a month left before prom, Mary announced she would simply not go.  The boy she was going with (very nice guy from another town she became friends with through the speech team) would have to understand. He had already ordered her flowers, but Mary insisted there was no way around this.
Answer to Prayer
We mothers know that there are ways out of most jams. I continued to reassure Mary that we would figure something out. "What?" she demanded, "What are you going to figure out?" 
"I don't know, but I know we can find something for you to wear."  We don't sew and we had no luck looking for used dresses, but I felt confident that if we turned this over to God, He would figure it out for us.  "Mary, come pray with Dad and me. We will pray and ask for help us find a prom dress." 
Mary is serious about her Catholic faith, but she thought my idea was dumb. "You want to pray for a prom dress?" she asked. "No, I'm not going to do that."
"What are you saying?" I asked. "I pray for everything, don't you?"
"Well, yes, but…"
"Just join Dad and me and let's pray."  So, that is what we did. I knew that God, looking down from heaven, saw lots bigger problems than finding a prom dress. Still, I had a peace about the situation. We asked our Blessed Mother to take our problem to Jesus. We have a special devotion to her under the title of Our Lady of Guadalupe. She would understand a mother's heart and just like at the Wedding at Cana where she made her son aware of the need for more wine, I trusted that she would bring our need to her son also."
Mary had to get up early in the morning for a speech competition so she went to bed, but I stayed up looking through online classifieds for prom dresses. I saw an advertisement for White Lace Bridal store. On impulse, I sent off an email telling them of our dilemma. "Do you have any returned or unused bridesmaid dresses at a discount?" I asked.
In return, I received an email from Lana, the owner, telling me that she had a whole rack of never used, discontinued bridesmaid dresses from which we could choose, all for only $60. That week, Mary and I went to the store. We were shown the dresses in a back room. Mary immediately found one she liked, tried it on, and we bought it. From parking the car to buying the dress took about twenty minutes. It is a very pretty dress that she loves.
Later that day, a question occurred to me: Were those dresses really only $60 or had Lana been charitable to us?  I emailed and asked her. She informed me that it was a little bit of both — the dresses were discontinued but yes, she had given us a special price. Lana explained that she liked to help out when she could.  I shared with her that her generosity had been an answer to prayer and she expressed appreciation at learning how much her kindness had meant to us.
Some people might think this story is silly or shallow. Maybe you have a dim view of prom.  Where we live, the after-prom parties are chaperoned by parents and are a night of wholesome fun; full of entertainment and activities like bowling, other games, and drawings. I know prom is not what the world is about, but turning to God during times of difficulty is. This story is not so much about finding the perfect dress, but the blessing that came through it. If money had been no object, I would have missed out on the opportunity to grow closer to my daughter when we joined our prayers to ask God to help us with our dilemma. Lana was presented with an opportunity to show kindness, which she did.  And most important to me was the powerful lesson that nothing is too big or too small to take to God in prayer. This is about so much more than finding the right dress.  Mary's prom dress was bought with faith and sold with kindness — something money can't buy.
(© 2011 Patti Maguire Armstrong)