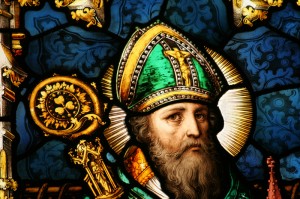 I rise today
with the strength of the sky,
with the light of the sun,
with the splendor of the moon,
with the brilliance of fire,
with the blaze of lightening,
with the swiftness of wind,
with the depth of the ocean,
with the firmness of earth,
with the firmness of rock.
— From the Breastplate or Lorica of St. Patrick
(probably written a century after his death)
This St. Patrick's Day set aside, for a moment, the shamrocks, snakes, green beer, Touchdown Jesus, and river dancing. Engage, if you will, the authentic, towering figure of what was once Irish Christian culture: St. Patrick, a noble son of Roman Britain, possibly an atheist from his youngest days, and a grievous sinner as related in his public confession. He was a captured slave who found God in the solitude of a foreign, barbaric land without family, friends or social intercourse for six years.
Patrick finally escaped captivity, walking 185 miles across Ireland to find a way back across the water. Eventually, he returned to convert the Irish barbarians to Christianity.
Patrick lived in County Antrim near Belfast or, as recent scholarship indicates, in County Mayo near the border with County Sligo. He endured the isolation, that sense of abandonment that many human beings have encountered whether it be in physical captivity or the captivity of their minds — alone, depressed and cut off from divine and human communion.
Philip Freeman, a modern biographer of St. Patrick, describes the life the saint experienced in captivity in his excellent book, St. Patrick of Ireland: A Biography (2004). Freeman is an expert in classical philology and Celtic studies. He synthesizes ancient texts, history, anthropology, archaeology, and other disciplines to paint a vibrant portrait of his subject. He is conversant with all the necessary source materials, including Patrick's few writings, and masterfully re-creates Britain and Ireland of the late 4th century.
Patrick, the slave, was a lowly shepherd. He led the sheep out to pasture, every day, rain or shine, summer or winter, and back again to a protected enclosure at night. Patrick once wrote that he prayed "through snow and rain," no doubt exposed to the elements in County Mayo on the Western Sea while tending to his flock.
"Every spring in March or April, Patrick would watch through the night while the lambs were born," says Freeman. "He then would help with castrating most of the young males and slaughtering them in the autumn for meat." He would shear the sheep for their fleece for processing into clothing.
According to Freeman, much of the time Patrick was alone, moving the sheep from field to field for grazing. "Many summer nights he would have passed in a small hut next to a stone-walled sheep pen in the hills."
Patrick himself described this time of isolation, yet spiritual development, in deeply moving terms:
God used the time to shape and mold me into something better. He made me into what I am now — someone very different from what I once was, someone who can care about others and work to help them. Before I was a slave, I didn't even care about myself.
The last sentence in the quote above underscores the transformative nature of this existential experience for Patrick. As a child of a privileged family, complete with a villa and possibly slaves of his own, he had felt nothing for himself, for other human beings or for God — until he was reduced to the lowliest estate of an Irish slave, cast adrift on the far shores of civilization, with only his inner spiritual resources offering him the means of transcending his loneliness, fear, and humble circumstances.
Freeman cites Patrick's claim that he was once "like a stone stuck deep in a mud puddle, but then God came along and with his power and compassion reached down and pulled [him]out." Evidently, he began to recall biblical stories and prayers of his youth, reciting them over and over.
Patrick relates that he would get up before sunrise and say a hundred prayers he had learned as a child. He would repeat the exercise at night.
"Since prayer in the ancient world was usually out loud, the other members of the household, free and slave, must have noticed this change in his behavior," says Freeman. "In a later vision, Patrick would hear the Irish calling him 'holy boy', probably a derisive nickname earned at the farm because of his endless prayers."
Summoning good works to match his emerging faith, Patrick began to fast at this time as an act of purification and payment for his youthful sins.
This had to be confusing to the pagan Irish who only took to fasting to shame a person whom they believed had done them wrong, claims Freeman.
An earlier student of St. Patrick, Dr. Ludwig Bieler, a professor of palaeography and classics at the University of Dublin described the end of this stage of the saint's remarkable life:
At the end of six years he heard a voice in his dreams, announcing God's forgiveness and bidding him to go to his country and his people; a ship the voice indicated, was waiting to take him home. He had to walk two hundred [Roman] miles before he found the ship which the voice of his dream had promised him; it was a boat carrying Irish hounds to the continent [citations omitted].
Patrick, now 21 years of age, was able to join a ship's crew and sail for Gaul.
The rest of St. Patrick's life is full of suffering and grace, emblematic of a profound spirituality which he discerned in the isolation and loneliness of a slave in the west of Ireland.
I rise today
with the power of God to guide me,
with the strength of God to raise me,
with the wisdom of God to lead me,
with the vision of God to see me,
with the ears of God to hear for me,
with the words of God to speak for me,
with the hand of God to protect me,
with the path of God before me,
with the shield of God to guard me,
with the friendship of God to keep me safe from
the contriving of demons,
the temptations of sin,
the inclinations of my nature,
and everyone who wishes me harm,
far and near,
alone and in the crowd.
Happy St. Patrick's Day!