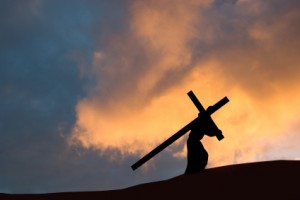 I'm not strong enough. Imagine if these were the words you told Christ when He asked you to take up your Cross and follow him. St. Mark's Gospel reminds of us this very notion where Christ provides us with His unique blueprint on discipleship:
And he called to him the multitude with his disciples, and said to them, "If any man would come after me, let him deny himself and take up his cross and follow me. For whoever would save his life will lose it: and whoever loses his life for my sake and the gospels will save it. For what does it profit a man to gain the whole world and forfeit his life? For whoever is ashamed of me and my words in this adulterous and sinful generation, of him will the Son of man also be ashamed, when comes in the glory of his Father with the holy angels. And he said to them, 'Truly, I say to you, there are some standing here who will not taste death before they see the kingdom of God come with power (8:34-9:1).'"
Many of us at one time or the other has echoed these words. Whatever the circumstance might have been, this profound yet simple statement evokes a journey towards the very heart of where we stand in our relationship with Jesus Christ. Sin makes us do crazy things. Please keep in mind I am not professing that sin itself makes us sin. We willingly carry out our own concupiscence every day. When we engage or indulge our sinful passions, it genuinely reflects a characteristic that we are "not strong enough" when it comes to handling the near occasion of sin.
A Distorted View
A parish catechist I was training once told me that children need to reflect on the resurrection of Christ and not the crucifixion.  He went on to say that the notion of seeing Christ suffer distorts the reality of why Jesus really came, to show love! You can imagine my inner workings wanting to charitably clarify this man's gross misunderstanding with the following phrase: "You have got to be kidding me!"  This distorted view of the Crucifixion reflects an attitude very present throughout the Seventies and Eighties catechetical landscape where sin was viewed as mere mistakes, and the resurrection was taught as the only thing Christ did.
The conflict between good and evil
All of us in some way battle our desire for good and our avoidance of evil. It is a natural part of our journey with Christ and His Church. This is one if not the main reason he left us the sacraments. He obviously knew we would need all of the graces we can get. St. Paul in his letter to the Romans helps us understand this interior conflict by describing his own:
Did that which is good, then, bring death to me? By no means! It was sin, working death in me through what is good, in order that sin might be shown to be sin, and through the commandment might become sinful beyond measure. We know that the law is spiritual; but I am carnal, sold under sin. I do not understand my own actions. For I do not do what I want, but I do the very thing I hate. Now if I do what I do not want, I agree that the law is good. So then it is no longer I that do it, but sin which dwells within me. For O know that nothing good dwells within me, that is, in my flesh. I can will what is right, but I cannot do it. For I do not do the good I want, but the evil I do not want is what I do. . . So, I find it to be a law that when I want to do right, evil lies close at hand (7:13-21)
The Way of the Cross
When the temptation to say "I'm not strong enough" begins to creep into your daily vocabulary, or you simply want to give up, reflect on the path our Lord Jesus Christ and the intentions he carried on the Cross. As we all know, the crucifixion came before the resurrection for a specific reason, to save us from the brink of spiritual extinction (Acts 2:23). The Crucifixion was part of God's divine salvific plan for all humanity. Jesus is the model of the suffering servant as foretold in Isaiah (53:7-8). Jesus himself reminds us of his journey to the Cross; "was it not necessary that the Christ should suffer these things and enter into his glory" (Lk 24:26). Keep in mind Jesus assumed our sins; this is the whole point of the Redemptive act on the Cross. Negating this very fact as the Catechist I mentioned earlier was trying to do, negate the very heart of the Paschal Mystery.
The Catechism of the Catholic Church clarifies the reason for the Crucifixion this way:
"This sacrifice of Christ is unique; it completes and surpasses all other sacrifices. First it is a gift from God the Father himself, for the Father handed his Son over to sinners in order to reconcile us with himself. At the same time it is the offering of the Son of God made man, who in freedom and love offered his life to his Father through the Holy Spirit in reparation for our disobedience" (614).
I can do . . .
"I can do all things in Him who strengthens me" (Phil 4:13). Let the following words from St. Paul's letter to the Philippians resound the next time we are tempted to say; "I'm not strong enough." The Devil would like us to think we're not strong to withstand the temptation of sin. In reality, the gift of Christ and His Church provide us the very sanctuary from which to be strong enough. St. Augustine provides with a great perspective on handling temptation in his Confessions we can all appreciate:
"Our hope is that because you are trustworthy, you do not allow us to be tempted more fiercely than we can bear, but along with the temptation you ordain the outcome of it, so that we can endure. Let me, then, confess what I know about myself, and confess too what I do not know, because what I know of myself I know only because you shed light on me, and what I do not know I shall remain ignorant about  until my darkness becomes like bright noon before your face" (Confessions X, 5, 7).