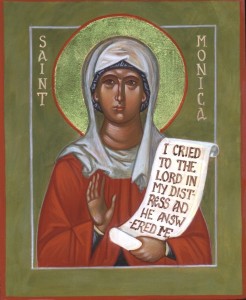 St. Monica is always on the near horizon for Catholic mothers, because the heartfelt prayers she offered on behalf of her wayward son, Augustine, were instrumental in his conversion. I must confess, though, that my admiration was limited by my narrow understanding of her life. I saw her less as a well-rounded Christian and more as a bedraggled [obsessed?] woman pulling herself from pillar to post, weeping and lamenting her son's errors. Any compassion I had for her (poor dear!) was due to the fact that she had no historical precedent—no St. Monica—that would have given her the confidence we now have that God indeed listens to the earnest prayers of mothers.
How wrong I was! The delightful, highly readable book, St. Monica and the Power of Persistent Prayer by Mike Aquilina and Mark W. Sullivan, fills in the details that I would have discovered had I only read the works of Saint Augustine—details which highlight the wide ranging virtues of that fine woman.  The first third of the book gives an account of her life, which shows her to be a well-catechized Christian, a prudent wife and mother, and a wise friend to many. She was faithful to the Mass, attentive to the feasts and fasts of her local church, and cognizant of the various heresies that were fracturing the Mystical Body at the time.
Interestingly, although Augustine picked up pernicious ideas while away at school, she had more to deal with than the simple need for him to return to the Church. "When he returned home to Thagaste, Augustine had a girlfriend, a son, a heresy problem, and an ego the size of Africa." She also had other children at home who would be influenced by his toxic ideas. "The girlfriend and the grandson Monica could deal with. It was the heresy and the ego that led her to throw [him]out of the house."
How modern this sounds to contemporary ears—and how gratifying that she eventually changed her mind, which shows us that there is no singular way to deal with our errant children. So many of us wring our hands and wonder what is the right thing to do, which is overly simplistic. There are a range of family dynamics and personalities which have to be considered, and responses can change if we set our own egos and initial ideas aside.
The rest of the book is devoted to a series of essays which illustrate more of Monica's wisdom, with each chapter reflecting insights from the authors' own family—for within every home there is the perpetual need for mercy, forgiveness, and forbearance if souls are to persevere along their journey to God. Moreover, it helps enormously to have witnesses of heroic sanctity nearby, so that each person can see the truth of God's love enfleshed:
What attracted Augustine about his mother's way of salvation—Jesus' way of salvation—was that it brought lasting serenity here on earth, even in the midst of great trials. That's what he wanted. It's what everybody wants.
So much for the bedraggled, tear-stained wretch I'd imagined! Augustine revealed that although he acted badly, he never forgot the example of his mother, her words, and her instructions over the years. Indeed, although through immaturity he often acted out more rebelliously when she did speak up, he had internalized her standards, which never left him.
Finally, the authors' overarching point is how Monica's protracted quest to bring her son into the fullness of the faith purified her and her intentions. She was always a beacon of strength to her local church, a source of kindness and almsgiving to those nearby, and a woman of patience and compassion—but these qualities deepened and matured in her as she awaited the answer to her primary prayer. God's Yes is often delayed because persistence itself teaches many valuable lessons, and tenacity can be the vehicle of abundant graces.
Monica's prayers were indeed instrumental in Augustine's path to God, but conversely his waywardness refined her faith, perfected her confidence, and led to the culminating event of their life together: a joint mystical experience in which they were encompassed by the very wisdom of God. Each was brought to that pinnacle in the only way possible—through ardent prayer, copious tears, and fervent love. "May St. Augustine and his mother, St. Monica, accompany us with their prayers and draw us ever closer to the Lord" (Pope Benedict XVI), and this book provides an excellent tool to reveal those two precious souls to us.
 St. Monica and the Power of Persistent Prayer by Mike Aquilina and Mark W. Sullivan (with an introduction by Lisa Hendey) is available through Our Sunday Visitor.