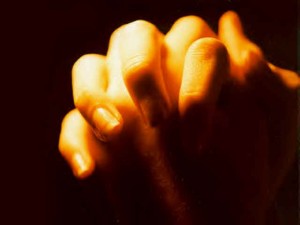 Jesus says, "This is how you are to pray." We are, then, blessed with the most beautiful prayer, shared with us by Jesus: The Lord's Prayer, also known as the Our Father.
Today, we are still in the early days of our 2014 Lenten journey. How many of us are asking Jesus to teach us how to pray better, how to grow closer to God, how to be more faithful to His teachings? Bottom line, how many of us are asking — how can we be holier?
The answer is in today's Gospel reading from Matthew. This simple, yet profound prayer that I would gather more than 85% of those reading this can, recite by heart. Yet, how often do we pray it?  When we do recount it, how often do we marvel in awe at the reality that this is not only from Jesus, but was the formula for how Jesus, himself, prayed to God?
I have a confession: for many years I resisted using The Lord's Prayer and even the Hail Mary in my prayers. I felt they were rote, boring, insincere prayers taught to me as a child, but now as a 'mature' adult I was perfectly capable of fashioning my own prayers. I even avoided praying the Rosary because I had convinced myself that there was very little value to memorized prayer. Unfamiliar at the time with Scripture, I never realized the origin of this prayer – or the true value it held within.
The commonality of this thought process was made apparent during my first women's retreat.  After much prayer and consideration, I decided to begin each event with the Rosary.  It was on a Saturday, so I created a PowerPoint of the prayers and added vivid, colorful, gorgeous art depicting each Joyful mystery.  Everyone got settled in; I welcomed them to the "Seeking the Peace of Forgiveness" retreat, turned down the lights, opened the PowerPoint, and jumped right into recitation of the Rosary.  During the lunch break, one of the attendees pulled me aside and said, "I almost bolted for the door when you began the Rosary. I cannot think of a more boring way to pray. You may want to rethink using that in the future."
I did rethink it, but I did not remove it.  Instead, after welcoming guests, I spend time explaining why I chose to begin every program by praying the Rosary together.
What great benefit comes from praying with prayers we know so well, that we can recount them while allowing us to also ponder the life, death and resurrection of Jesus. It is beautiful to see the transformation of these women, who do sometimes still share they considered 'bolting' when we began, but are always glad they remained because in the end it was a great blessing.  Our Father, who art in Heaven…