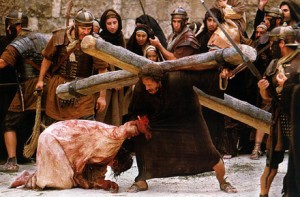 Praying the Stations of the Cross on Fridays in Lent and on Good Friday is one of the most beautiful devotions in our Catholic tradition outside of the Mass and the Sacraments.  This particular devotion helps the faithful to deeply ponder what Christ did for us that Friday.  He submitted and opened not his mouth.  He paid the ultimate price, though he was without sin.  He gave himself as the sacrifice to cleanse us that we may share eternal life with him.
I just got home from our parish youth group's presentation of their iWitness Stations.  This beautiful presentation on our Lord's Passion included a reflection on each of the traditional Stations of the Cross accompanied by a video and songs performed by the music ministry.
The images included various statues and paintings depicting each of the stations, as well as still shots of scenes from The Passion of the Christ.  The reflections for each station, composed by members of the youth group, helped those in attendance to deeply contemplate Christ's love for us.
Three stations in particular tug at my heart along the Way of the Cross–Jesus Meets His Mother, Simon Helps Jesus Carry His Cross, and Veronica Wipes the Face of Jesus. These three come between the first and second times that Jesus falls.  Tonight in church, I sat with my youngest son near the pictures of those particular stations.
Jesus bore the weight of our sins alone, but he wasn't all alone.  Three individuals in particular are chosen to represent love and friendship to Jesus during his journey to Calvary.
First, of course, is our Blessed Mother.  She stays near to her son through his anguish.  She suffers with him–her "Yes" from the Annunciation carries her through to this moment. She suffers, yet she trusts her Lord. The look between mother and son in that moment would have been one of understanding, anguish, but mostly love.  Words wouldn't have been necessary, but her presence was most necessary.
Next, Simon is called upon to help Jesus carry the cross. The soldiers no doubt feared he would die on the way to Calvary, as he'd already fallen once.  Simon didn't want to be there, but he helped Jesus when the soldiers pressed him into service.
The reflection on the station described Simon as having a change of heart and speaking to Jesus along the road.  We could envision his conversion under the weight of the wood.
Jesus bore our sins upon that cross.  When Simon helps to carry the cross, it seems to represent repentance–our willingness to own and carry our own sins, and then to repent from those sins, in order to walk with Christ.
Third, we see Veronica wipe the face of Jesus. "None but she would flaunt the Roman." This station has impressed me since I was a child. Who was this woman?  Did she know Jesus?  Was she one of the "women and children" who weren't counted among the 5000 men who were fed by the 5 loaves and 2 fish after hearing the Sermon on the Mount?
Veronica is moved to pity for Jesus. His face was bloodied and swollen. He carried the cross like a common criminal as he was paraded through the streets, scorned, and mocked. Yet she loved him and wiped his face tenderly, and he left his beautiful countenance upon her veil and a gift for her love.
Mary, Simon, and Veronica are true disciples.  They all point us to Christ by being Christ-like.  Their role in his Passion teaches us how to love and to serve.  Just as Jesus told the apostles at the last supper that they would be called to serve, these stations teach us how to serve.