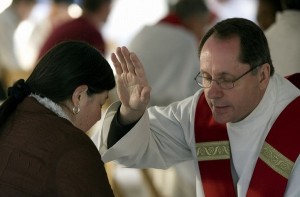 Implementing the new translation of the Mass on the first Sunday of Advent is excellent timing.  After all, Advent is an opportunity to consider the spiritual life and make improvements where necessary.  The revisions of the Mass are useful starting points when pondering the state of our souls.
Perhaps the change most relevant to spiritual renewal is the addition of these words to the Confiteor:  "through my fault, through my fault, through my most grievous fault."  In this day and age, the very reality of sin is often denied, and Advent is seen, not as a penitential season, but as an extended preview of Christmas festivities.  The new translation restores sanity to our perspective by returning to the original emphasis on human sinfulness – and, as a logical consequence, on our desperate need for a Savior.
St. Paul tells us that he glories in his weakness, for when he is weak, he relies on God's power.  Similarly, when we say the new translation of the Confiteor, we can meditate more on our own weakness, our own spiritual poverty, and on the deepest longing of our hearts – the longing for a God whose red blood washes us white as snow.
However, the new translation also reminds us that not all of us will benefit from the merciful outpouring of Christ's blood. At the consecration of the Eucharist, the priest now repeats Christ's words, proclaiming the sacrifice of the Cross effective "for many" – but not for all.  Only those who, responding to God's prevenient grace, repent of their sins and embrace the Lord will be saved.
Thus we must heed the cry of St. John the Baptist to "make ready the way of the Lord, make straight His paths" (Luke 3:4) by spending extra time in spiritual reading and prayer, going to Confession and Holy Communion, and practicing little acts of charity and self-denial.  These activities prepare us not only for Christ's coming at Christmas, but also for His Second Coming at the end of the world.
Let us use this Advent as an opportunity to recall our own sinfulness and our own profound need for redemption as we make ourselves ready for the coming of the all-merciful Redeemer, Who not only comes to us as the Divine Infant at Christmas, but Who, out of incomprehensible and infinite love, comes right into our hearts every Sunday in Holy Communion.