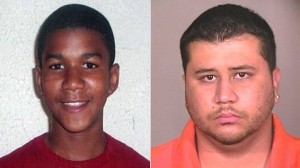 If there's one way to determine whether an event has devolved into a circus maximus, surely it must be the entry into the public debate by Roseanne Barr.
The erstwhile comedian and celebrity took up the Twitter cause last week on behalf of the late Trayvon Martin, the black teenager killed on Feb. 26 by George Zimmerman, a neighborhood watch captain in his gated community of Sanford, Fla.
Of course, as a citizen, Ms. Barr has every right to speak out about this or any issue she chooses. But it comes as no surprise that she tweeted an erroneous address for Mr. Zimmerman and then threatened, "If Zimmerman isn't arrested I'll [retweet]his address again — maybe go 2 his house myself."
Later, the outspoken Ms. Barr deleted her mistaken tweet and apologized, then stated if Mr. Zimmerman is not arrested she would go to the city of Sanford, not to his home, to protest. "#OccupySanford," she wrote with originality.
Ms. Barr claimed on Twitter that anyone who doesn't agree that Mr. Zimmerman is guilty simply "doesn't get it and probably never will."
She may have a point. There are things I don't get, that's for sure.
A teenager is dead and his parents are grieving his loss. Regardless of the circumstances, when a teenager dies it is always tragic. It always leaves a void of untapped potential and unrealized dreams. It always causes heartache that can't be eased, much less erased. This, I get.
A man's life is forever changed by an event that can't be undone. Regardless of how his actions are labeled, he can't alter the fact that he fatally shot a 17-year-old. Even if he did so in self-defense, this was a defining event for Mr. Zimmerman, whose life has now been threatened by the New Black Panther Party and others, forcing him, along with his family, into hiding.
If this case reminds us of anything, it is that the due-process clause of our Constitution serves a real and important purpose — to require the prudent and thoughtful application of the law in every situation, no matter how "obvious" a crime may appear.
If due process should have been afforded to young Trayvon, it is no less warranted for Mr. Zimmerman in the aftermath of the shooting. This is what it means to be a nation of laws, and not men.
In our age of instant (though often not accurate) communication and knee-jerk, emotional responses, it is unsurprising that the Revs. Al Sharpton, Jesse Jackson and others would ignore the right to due process for some and once again use a very real human tragedy to advance a political agenda, demonizing the people with whom they disagree.
Enter the left's favorite villain: conservatism.
According to AFL-CIO Executive Vice President Arlene Holt Baker, the shooting death of Trayvon Martin reflects "The same folks who want to kill workers' rights in the workplace are the same folks who want to kill voters' votes … and now they are literally supporting legislation that is literally killing our children."
Presumably, she refers to the "stand your ground" law in Florida that allows private citizens to use deadly force in self-defense. Does Ms. Baker honestly mean to suggest that this law is not meant to empower law-abiding citizens, but to give racists a way to kill black children?
Likewise, leftist pundits blame Republicans for perpetuating stereotypes about young black men, as was suggested on MSNBC, while statistics prove that crime among and between young black men is rampant, with homicide at the hands of a fellow young black male their leading cause of death.
There is so much wrong in this case — and so much not to get — that I can't imagine how we're supposed to raise up a generation of open-minded, optimistic, non-biased Americans when the people leading them to adulthood cannot resist the temptation to label others "racist" at every turn.