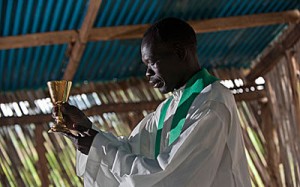 Fears are growing for the safety of two priests from Sudan who have been abducted.
Fr. Joseph Makwey, in his 40s, and Fr. Sylvester Mogga, in his mid-30s, were seized on Sunday, January 15th, by men who smashed through the gates of their parish compound and broke down the presbytery door.
According to neighbors, the attackers arrived at St. Josephine Bakhita's Catholic Church in a huge truck filled with people.
Besides abducting the priests, they looted the property, taking electrical goods and other valuables, including laptops and other computer equipment.
Reporting the incident in Rabak town, south of Khartoum, Auxiliary Bishop Daniel Adwok Kur of Khartoum told Catholic charity Aid to the Church in Need (ACN) that the two men's whereabouts remained unknown.
Speaking by telephone en route to the scene to assess the situation, Bishop Adwok said, "We are worried about the two priests."
"One of them, Fr. Sylvester, although quite young is sick and is in need of medical help."
The bishop said the police had been notified but investigations were at an early stage.
He added that it was as yet impossible to "speculate" on the identity of the kidnappers and their motives.
But, reporting an upsurge in kidnappings in the region, Bishop Adwok said he feared the men may be conscripted to fight amid reports of worsening internal conflicts involving Sudan and South Sudan.
He said, "It is not as if the law cannot be maintained, it seems that this abduction was something deliberate."
"The kidnappers would have known that these men were priests."
The bishop, who lives in Kosti, a town close to Rabak on the other side of the White Nile, said that across Sudan militants were intimidating people originally from what is now South Sudan, pressuring them to leave.
Bishop Adwok said, "The abduction of young men has frightened practically everybody here."
He criticized the Government of Sudan for appearing to brush off the kidnappings and saying that the abductors are "foreigners" who cannot be controlled.
The bishop added, "Innocent people are not there to be brutalized and the authorities must be called to account for what is going on."
"It is not only in Kosti that this is happening. It is also taking place in Khartoum."