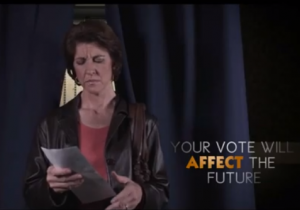 What can a homeschooling mother of seven children possibly do to touch our entire nation? Pray? Sure. Raise responsible, future citizens? Of course. Found a national organization and make a video with well over 2 million views that can impact the outcome of the 2012 Presidential Election? It's what Adriana Gonzalez of Florida did. Yet, she would say she did nothing of the sort—that God did it. After all, how could someone like her be responsible for a video going viral when she did not even know what the term meant at the time?
The organization, Catholics Called to Witness (CC2W) is dedicated to three non-negotiable principals stressed by Pope Benedict XVI: 1) the sanctity of life from birth to natural death, 2) marriage as being between one man and one woman, and 3) religious freedom.
It began last November with a meeting in the home of Adriana and her physician husband, Manuel (Manny). "I was not a political person," Adriana stated, "but I was involved working for parental rights legislation." Another volunteer who held political forum at his Evangelical Church, suggested that Adriana do something similar in the Catholic Church— get people involved in important issues.
"I was not clear what exactly we would do, but my husband and I decided to have a meeting to talk about ideas," she said.  They spread the word and around thirty-five people, including some children, gathered in the family's living room. Before the meeting, Adriana had come across an article in which Pope Benedict XVI said that some issues were non-negotiable. "For instance," she explained, "the economy is not equal to life issues." The meeting was a brainstorming session that ended up with a core message. "We wanted to appeal to Catholics to stay true to the non-negotiables and vote their faith," Adriana said. "We would not endorse candidates."
The delivery of this message was undecided except for the idea to visit parishes to educate people that the HHS Mandate threatened religious freedom by forcing everyone, even religious institutions, to provide birth control and abortion-inducing drugs.
By last February, they incorporated with three board members, Manny, Adriana and a local businessman who was also the Grand Knight of the Knights of Columbus from a nearby parish. In the meantime, Adriana was busy at home in her fifteenth year of homeschooling five of their children in grades eleven down to first. Two of the kids were in college. A friend of Adriana's commented one day that if the group was going to give presentations, they should package the message in some way so that it could be delivered in three to five minutes—perhaps a video.
Adriana liked the idea. She and Manny met with a friend, Jeremy Wiles, who owns the video production company, Creative Lab . "We told him about the message of the non-negotiables and came up with some quotes to go with it," Adriana said. The idea emerged to use the image of an old-fashioned blacksmith forging iron pieces into words that reflect some of the campaign issues.
Through a chance conversation with a family friend, they heard about Steve Middleton who had an old-fashioned blacksmith shop right on his property in Florida. Steve not only readily agreed to use his shop for the production, but he fit the role of the blacksmith perfectly. He is even a strong Catholic who upholds the non-negotiables.
Jeremy presented the finished product "Test of Fire" and commented, "I think this could go viral." Adriana said she and her husband found it compelling. The video shows a blacksmith casting pieces with words such as "jobs," "taxes," and "energy," with dramatic background music. It states that some policies are negotiable but some are not—abortion, the definition of marriage, and religious freedom. "In generations past, the church has always been able to count on the faithful to stand up and protect her sacred rights and duties. This generation of Catholics must do the same," it states while a women steps into a voting booth. The video concludes with the message, "Your vote will affect the future and be recorded in eternity. Will you vote the values that will stand the test of fire?"
Since the Gonzalez's did not have an active YouTube channel, Jeremy offered to post it on his. They told a few friends about it, and then occasionally checked to see how many views it was getting. "Every time I checked, there were tens of thousands more views," Adriana said. "I called a friend and asked, 'Is this what going viral means?'"
The video was played on the Glenn Beck's The Blaze TV and picked up by websites across the Internet. It touched hearts and people began contacting CC2W with donatations and, wanting to know what they could do to help.
Adriana stood back in awe. "My prayer has always been to simply surrender and be obedient. This was God's doing, not ours." She said it reminds her of Psalm 37:4. "It says that if we delight in the Lord, he will give us the desires of our heart. It is a humbling thing," Adriana says. "I don't always live up to my end of the bargain, but the Lord's mercy is so great, he completes our imperfect offering."
[youtube http://www.youtube.com/watch?v=iiG9NMkPhus?rel=0]
Rather than getting depressed or stressed about what is happening in our country, Adriana encourages people to believe the power of God. She said everyone should get involved rather than just sit back and hope things will get better on their own.  "God is engaged in our nation," she says. "He cares about everything. God is alive and he is intimately involved in our lives to the degree that we let him."
As a result of the impact "Test of Fire" video is having on our nation, it was featured on "Fox and Friends," and the CC2W staff has appeared on "Lou Dobbs," "EWTN Live," as well as "Catholic TV," and on various radio shows across the country. Ironically, Adriana does not seek the spotlight. "I wondered why God didn't pick someone who likes to be out there. It's not me," she said. "I'm very shy but I'm getting over it."
The CC2W has mobilized people into action. They give presentations on the HHS mandate, explaining why it is a threat to religious liberty. New chapters are also forming seeking to spread the same message and appeal to Catholics to vote their faith.
Webinars are being given on issues such as the HHS Mandate, separation of church and state and the smokescreen of the supposed "war on women". People can sign up for newsletters and events through the CC2W homepage. In the last weeks before the election, they are working hard to appeal especially to undecided voters. One way people can help is to pray and by sharing the Test of Fire video through email and social media.
Stay in touch with CC2W, You Tube, LinkedIn, Twitter and Facebook.
Please register for
Election Focus: The Non-Negotiables
, a free webinar with Dr. Monica Miller on Oct 10, 2012 8:00 PM EDT, 
here
.