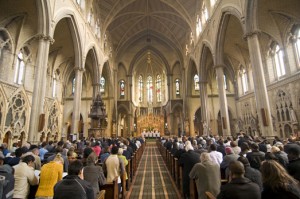 I would imagine that no one ever wants to see a loved one walk away from the Church. This scenario plays out more often than naught with the people I speak to on a daily basis. A day doesn't go by without encountering someone who is Catholic but not practicing.
When I recently taught on this topic to a large capacity crowd who were anxiously waiting for the magic formula I asked them a basic question: How many of you know someone who has either left the Church or is considering leaving the Church?  To the surprise of everyone all hands were raised.
It's a situation that has become all too prevalent for a myriad of reasons. One of the main reasons Catholics leave the Church is a continual disassociation from the Church or in other words, a loss of belonging in the Church.
St. John Paul II once said that conversion requires convincing of sin (CCC 1848) which in turn involves an active conscience and the ability to authentically distinguish right from wrong, grace versus sin. It was very apparent to me that the audience was deeply concerned about their loved ones who have left the Church and had an ardent desire to do something about it.
A point I stressed throughout the presentation was to not lose hope and fall into despair. There is no sense in joining the "misery loves company' approach. Regardless of the reasons someone either leaves or is contemplating on leaving the Church it's usually for the wrong reasons.
What Should You Say?
Many of us worry that we'll say the wrong thing and drive our loved one further away from the Church. Thus the temptation might be to say nothing at all or just pray. From one perspective it shouldn't matter because some have already left the Church in mind and spirit.
Cynicism set aside, honestly there is no way you can truly assess whether what you say will have a lasting impact or not. Your actions, however, can paint a different story. The key is that if you say or do something may it be reverent (1 Pt 3:15-17).
When talking with someone about the Church it's important that your Christian actions speak louder than your words. Genuine discipleship goes a long way in communicating the faith to someone.
As I mentioned earlier, one of the main reasons people either leave or drift away is that they have no intimate relationship with the Church, especially the Church community. They don't necessarily see themselves as part of God's plan. At times it boils down to being religious without affirming God.
Leaving for the Wrong Reasons
A recent article at the Our Sunday Visitor Weekly highlighted a study conducted in the Diocese of Springfield, IL on why Catholics leave the Church. When the sample size data was collected, prominent reasons within the Diocese of Springfield were birth control, ordination of women, civil marriage after divorce, fertility treatments; same-sex marriage. It should come as no surprise that these reasons are related to core doctrinal teachings of the Church.
This statistic shows us how easily ignorance becomes doctrine. If the Diocese of Springfield is any indication of why Catholics leave the Church in general, then our efforts must be directed on clarifying any misconceptions of the faith through our visible and authentic witness of the Gospel.
One of the most striking reasons as to why Catholics tend to leave the Church was a loss of the sense of community, which led to people no longer believing in the Church, which in turn caused dissatisfaction with the Church as a whole.
Are these legitimate reasons for leaving the Church? Those that left think so. Regardless of the reasons this Diocesan study does reveal an underlying theme; "why can't the Church give me what I want when I want it?" This "mecentric versus Christocentric" attitude is at the heart of the great diaspora of Catholics from the Church.
St. Paul in his letter to the Ephesians presents the counterpoint of being part of the body of Christ where he reminds the people of Ephesus that they are no longer strangers and sojourners, but are fellow citizens with the holy ones and members of the household of God, built upon the foundation of the Apostles and prophets, with Christ Jesus himself as the capstone. Through him the whole structure is held together and grows into a temple sacred in the Lord; in him you also are being built together into a dwelling place of God in the Spirit (2:9-22).
What's the Next Step?
Pray! In particular pray that the person in question is open to God and begins to cooperate with Him. Jesus for example would call upon His disciples to prayer, almsgiving and fasting as the means to cooperate with God (Mt 6). This makes logical sense because these actions aim to draw us away from ourselves and towards God.
Intercessory prayer is by far one of the greatest spiritual weapons you can use for someone who has fallen away from the Church. The desire for God is naturally written in our human heart because it comes from God Himself. We must not forget that we are created for Him and are called to be in communion with Him. It's an invitation to converse with God (CCC 27). And this is what anyone who is considering leaving the Church needs, a genuine invitation to stay home.