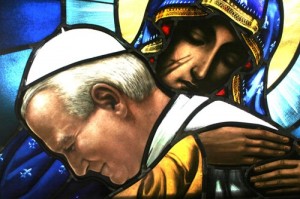 Throughout this Year of Faith it has become abundantly clear how important it is for each of us to live and to pray like Mary.  Why?  In the introduction to his October 1954 encyclical titled Ad Caeli Reginam, Pope Pius XII explains it this way:
From the earliest ages of the catholic church a Christian people, whether in time of triumph or more especially in time of crisis, has addressed prayers of petition and hymns of praise and veneration to the Queen of Heaven. And never has that hope wavered which they placed in the Mother of the Divine King, Jesus Christ; nor has that faith ever failed by which we are taught that Mary, the Virgin Mother of God, reigns with a mother's solicitude over the entire world, just as she is crowned in heavenly blessedness with the glory of a Queen.
In that same document, Pope Pius XII also instituted the Memorial of the Queenship of the Blessed Virgin Mary – which we now celebrate on August 22 – as a reminder of the exalted place that Mary holds in the Church and among her believers.
As the prototypical Christian mother, Mary teaches us how to love Christ, love ourselves, and love one another.  As the preeminent queen who gave birth to the king of the universe, Mary is the archetype for Christian faith, dignity, and hope.  And this is why we look to her as the way to live a Christian life.  To give you an idea of how important it is to emulate Mary, consider the soon-to-be-canonized Blessed John Paul II.
Karol Wojtyla was known to have been a prayerful, smart, and active child, but began to seek Mary in a special way when, one-by-one, every person in his immediate family died before he was 20 years old.  Later, he sought her guidance as a worker during Nazi occupation; as a seminarian; as a priest under Communist rule; as a bishop, cardinal, and later as Pope.  In fact, the devotion of Wojty?a to Mary was so strong that he captured it in his papal coat of arms (which contained an "M" for Mary) and papal motto (which was totus tuus or "totally yours").
Without going into a recitation of his life here, it is sufficient to write that Wojty?a had a life-long relationship with Mary that began, as it does for most Poles, with a devotion to Our Lady of Cz?stochowa whose Solemnity is celebrated on August 25.  Thus, the story of his life is intertwined with the messages of the Blessed Mother as Our Lady of Cz?stochowa, whom he first encountered through the icon of the Black Madonna of Cz?stochowa, which is housed at the Jasna Góra Monastery in Poland.  This connection between Blessed John Paul II and Mary is not one that can or should go unnoticed by the rest of us.
You see, the man, Karol Wojty?a, looked so intensely to the example of Mary and experienced her love so personally that he will have ended his life as a saint imitating the preeminent saint (Bl. John Paul II is expected to be canonized soon).  In other words, he was a regular person praying like a saint for the intercession of a saint.  As a result of his commitment to a devoutly prayerful and personal connection to Mary, he is now a model for the rest of us to know what it means to live a life like hers in the modern age.
So, during this Year of Faith, ask yourself this: do I know how important it is to act on the gift of faith given by the Holy Spirit?  Do I really understand the role Mary plays in the Church and in our lives?  Can I imagine what it must be like for a budding saint to pray with the preeminent saint?  Do I imagine that it is possible for me to become a saint too?