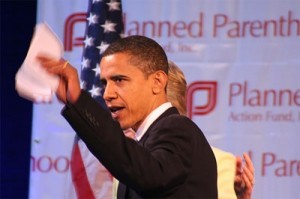 The Friday Fax has learned that the Obama administration may try to circumvent the long-standing Helm's Amendment and allow for taxpayer-funded abortions overseas.
The change has not been made yet as the administration is trying to figure out how best to go about what could be a highly controversial change to the U.S. law which has stood for almost half a century.
The Helms Amendment, enacted in 1973, bars U.S. foreign aid from funding abortions or motivating anyone to perform one. The current issue centers on rape in conflict situations. Abortion advocates are claiming that international humanitarian law requires a right to abortion in conflict or disaster situations even in countries where abortion is against the law.
The pressure for such a change is coming from outside the administration but no doubt is finding sympathetic ears in an administration that has worked hard to advance a right to abortion through the UN.
A coalition of left-wing abortion advocates, including Frances Kissling, former longtime head of "Catholics" for a Free Choice, released a letter this week calling for President Obama to use his "executive authority" to overrule the Helms Amendment. They claim"…it is unacceptable — in fact immoral — for our nation to continue to apply the Helms Amendment incorrectly." The group makes clear they support eliminating the entire Helms Amendment but as a bare minimum instituting a rape, incest and health risk exclusion to the current law.
C-Fam, publisher of the Friday Fax, issued a memo to members of Congress last week explaining why overturning even a part of the Helms Amendment is a dangerous idea.
The memo points out that abortions in unsanitary conflict situations would place the mother to increased health risks, and that abortion funding will divert greatly needed funds from other more pressing areas including basic medical care.
The C-Fam memo also explains, "international humanitarian law does not establish a right to abortion in cases of rape in conflict situations." Abortion advocates point to recent Security Council resolutions that mention "sexual and reproductive health services" has established a right to abortion in cases of rape. The memo points out the phrase "sexual and reproductive health services" has never been defined in a binding UN document as including abortion.
The memo points out that giving a rape exception to the ban on abortion funding will further stigmatize and therefore harm children born of rape who are already vulnerable.
C-Fam is concerned that altering the Helms Amendment would discriminate "against faith-based aid organizations that will not commit abortion." In fact, the US Conference of Catholic Bishops, the umbrella organization of the Catholic Church in the United States, "was denied grant renewal for an anti-trafficking program, despite being the superior grantee, because they do not offer abortion."
It is unclear at this moment whether faith-based aid groups know about the impending change. World Vision, a US-based Christian group that spends billions in support of poor people overseas, would likely not support such a change. InterAction and Accord, coalitions of aid groups, are said to be influential in decision-making at the United States Agency for International Development and the State Department where such changes are almost certainly being discussed. It is unclear whether these groups know about the change or have otherwise made their views known.
The rape exception is already allowed in US domestic funding but as one expert pointed out to the Friday Fax, "In the US there can be controls. Get into conflict regions, and there are no controls. This would open the flood-gates to US funding of abortions for any reason and not just rape."