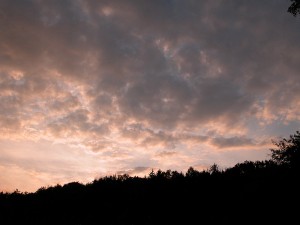 Like Mount Zion are they who trust in the LORD, unshakable, forever. — Psalm 125
Do you ever think about how much we trust every single day?
For instance, every time you turn on your car and pull out of the driveway, you are trusting the people who assembled that car and the mechanic who last fixed some problem or another. You trust the police to keep the streets safe, the paramedics to be there as soon as you dial 911, the people who prepare the meat and vegetables that you buy at the store.
We all trust our politicians when we vote for them. (Or maybe "hope" is a better word than "trust" in this case, eh?) We trust our family to love and support us, our friends to keep our secrets, our neighbors to keep an eye out for anything untoward in our neighborhood.
We trust in the sun to rise every morning, our doctors to keep us healthy, our medications to do what they are designed to do. We trust we have a job every day. We trust our roof will stay on the house when a bad storm comes, that our drinking water isn't contaminated, that the people who built the deck on the back of the house knew what they were doing.
We trust that the people who love us will keep loving us, through thick and thin.
Imagine how miserable life would be if we couldn't be so trusting in what can seem the simple parts of our everyday lives. I thought about all of that earlier this year while I was driving through the Kansas plains.
I know, I know, those are weird thoughts to have while driving around. If you ever have been in the vast open spaces of parts of Kansas, though, you probably understand that there isn't much to view and ponder.
Anyway, I saw several signs on the Kansas highways that state the following:
Range Burning Area
Do not drive into dense smoke
Motor across the Flint Hills of Kansas in the spring and you will understand why. Acres and acres are scorched black after farmers systematically burn grazing pastures.
How often do we run into the thick, black smoke of life sometimes? Someone you love gets sick — maybe even yourself. Cancer certainly can feel like black smoke. Or perhaps your marriage gets a little rocky. Everything you say and do with your spouse seems wrong. Maybe you run into something at work that has you or someone else questioning your ability to do your job — or worse, perhaps you lose your job with no new one in sight.
Who do you trust then?
Trusting people still can be important. You have to trust your doctors and your spouse's love. Without a job, you have to have confidence that somewhere, someone will hire you. And certainly when we don't trust that way, we can plunge into a deep funk.
But why do we so easily trust in other people in the routine of life and not trust in our God?
If we truly trust in the person of God, if we had a deep faith in how much He loves us by sending Jesus to be our companion in good times and in bad, then the smoke never would be an issue. It never would seem to be quite so dense and quite so black.
I think back to those times when my depression plunged me into such a deep abyss, when taking my own life seemed like an attractive option. Those were dark days, to be sure. My prayer life, several people God put into my life and my ability simply to trust Him brought me through.
Fact is, we should be grateful for the all the trials and tribulations of life. We should be glad when we are ready to drive into some black smoke. It is in those days when we have to put everything else aside and go with God.